Action Star Liam Neeson Defeated in a Game of Table Shuffleboard on National Television
Many people know Liam Neeson as the star of such Hollywood blockbusters as "Taken" and "The Grey," where the Irish actor plays characters who have mastered a wide set of skills and are unbeatable at nearly any task. When it comes to table shuffleboard, however, it seems the star is surprisingly vulnerable, as he displayed in his October 1, 2012 appearance on Late Night with Jimmy Fallon.
As he often does, Fallon, the show's host, challenged his guest to a game of shuffleboard while the two shared a drink as part of his notoriously unconventional approach to late night television.
Fallon drank a beer while the dapper Neeson sipped on red wine before they started the match. When Neeson took his first drink, he made a remark about the glasses in fact being made of plastic, adding "where I come from, that usually means there's going to be a fight."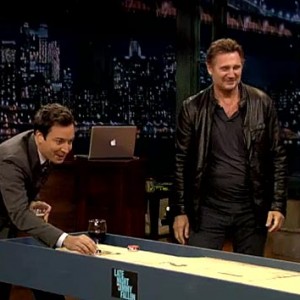 The two exchanged jabs throughout the match but it was Fallon who would ultimately be the victor. Neeson started the tournament shooting his weight past the first foul line, initially impressing the audience with his inherent ability at lagging a puck. That confidence seemed to be short-lived, however, when Fallon's first shuffleboard puck soared past Neeson's and landed near the third foul line, leaving Neeson's weight in the saw-dust.
The actor took the defeat in stride, cracking jokes with the host throughout the match, including claiming to have broken his hand right before the show and failing to inform Fallon prior to the match.
Despite Fallon taking a commanding lead, neither player used the correct professional strategy that expert shuffleboard players know to utilize. For example, both players shot from the center of the table, failing to utilize using the sides of the board as a guide, which resulted in both players knocking pucks into the gutters.
It just goes to show that even action stars can be taken out in a game of shuffleboard, no matter how tough their characters are.