Angus MacLellan Production Supervisor and U.S. Rugby Team Player
McClure Tables Production Manager Angus MacLellan
Angus MacLellan has a 30-minute commute to work where he's the production supervisor at McClure Tables of Jenison, Mich., a company that creates high-end custom shuffleboard tables and block cutting boards. There he wears many hats: bookkeeper, finance, shipping, and of course, production supervisor. It's obvious that Angus likes what he's doing, and he does it well. "I'm incredibly lucky to work at McClure Tables," he said. His position at McClure Tables compliments his business interests, and now Angus is close to completing his MBA; with just 3 classes left he'll soon have his master's degree, and he's just 25. This will be his second degree.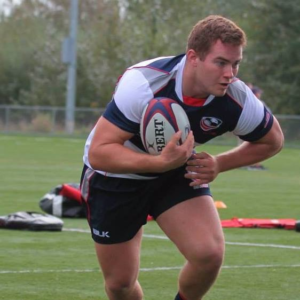 But Angus has another passion in his life that requires a lot more out of him physically. As his name has been circulating around in professional rugby circles, Angus MacLellan is a player to watch. He has traveled the world to compete against some of the world's greatest teams and is often seen playing the "prop" position; he's one of 3 power positions in the 8 forwards in a team. The props represent the brawn of the team as they work hard to carry the ball forward into the opposition's stronghold.
Angus explained that "everyone does everything in rugby, but my position is more specialized." Along with providing the blunt attack to the opposition, props also work in tandem with the forwards who push the ball upfield. More specifically, Angus plays what's called the "tight-head prop," or prop #3 who is the teams' main "scrum manager." The importance of the tight-head can't be underestimated in the modern sport.
At 6-foot-1, 250-pounds, Angus starting playing rugby at St. Francis High School in Traverse City, Michigan. There, he played with the Traverse City Alliance team. Angus was recruited in his senior year and quickly mastered the game. Not long after his introduction to the sport he was approached by college coaches.
Having won a scholarship in rugby in his senior year in 2010, Angus attended Davenport University in Grand Rapids the following year, playing with the Panthers; there he captained the rugby team and led them to victory with two national D1-AA titles in 2011 and 2012. Other, shorter stints include playing for Trinity University in Dublin, Ireland and Linwood Rugby Club in Christchurch, New Zealand. With encouragement from his coach, Kuger VanBiljon he pursued international and professional rugby.
In 2014, his senior year of undergrad, Angus was added to the U.S. national team in pursuit of the 2015 Rugby World Cup, but he tore a ligament in his knee (anterior criciate ligament), a serious injury which eliminated his chances of making the U.S. roster.
Recuperating nicely, and most recently, Angus became a member of five teams competing in the inaugural season of professional rugby in the U.S., PRO Rugby North America, making his pro rugby debut on April 17, 2017 as a member of the Ohio team. He is currently playing with the Chicago Lions making a 3 hour commute both ways 2-3 times a week in order to pursue his rugby career as well as a professional working career at McClure. Since recovering from both a knee and ankle reconstruction in 2015 and 2016 he has made his way back to compete for a spot in the USA Eagles roster and a chance to play in the 2019 World Cup. Most recently he traveled to Uruguay to compete in the 2017 APC World Rugby Pacific Challenge, a tournament involving countries located in North and South America as well as the Pacific Islands, and started all three games for the US representative team against Samoa, Uruguay, and Canada.
See Angus on the field in action he runs our factory production with the same skill and precision you will see in action