Antique Rock-Ola Shuffleboard Tables Value and History.
The Rock-Ola Shuffleboard Tables were made in 1948 and 1949; they stamped and numbered them with serial numbers. In our best estimate, they made over 15,000 tables in those two years. This estimate is based on the range of the serial numbers we have seen or have heard other restoration companies mention the highest number they have seen. If you look at the old Billboard magazine archives, you will find several manufacturers of shuffleboard tables in this period right after World War II. At that time, Shuffleboard tables were mass-produced, and they were an arcade game or vending game. Look in 1947 and 1948 you will see ads for many shuffleboard tables and some articles in the magazines. Most of the tables went into clubs like VFW halls or clubs and bars. They had leagues where players would gather together in teams of 4 and play the most common game, horse collar. In this game, the team throws all eight pucks down the board in one inning or turn, and the object is to add up the score of all pucks, not knock any pucks off the board.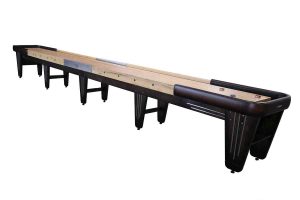 There was a lawsuit between American Shuffleboard and Rock-Ola about the patent that American had filed on the climatic adjusters.  Rock-ola soon discontinued the manufacturing of shuffleboard tables. The motivation not primarily by the law suite but rather the other opportunities in the game arcade industry. Pin Ball machines were coming out about this time, and a vendor could put in a row of pinball machines in place of one shuffleboard table and generate more revenue. In our estimate, the majority of the shuffleboard tables made were thrown out or disposed of. The tables themselves are not that rare, but the electro-mechanical score units are much more scarce. They also are difficult to repair as the parts, and the people who can repair them are hard to find. We at McClure Tables restore the cabinets and playboards, but we do not restore the electro-mechanical score units. We have a person we have used in the past who has assisted us in repair them.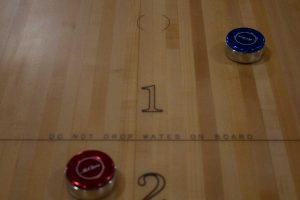 We restore about 3 to 4 shuffleboard tables per year and usually just the playboard, not the complete table. Look for future articles about the restoration process. This article is going to focus on the value and history of the Rock-Ola Shuffleboard tables. We get about 10 to 15 calls per year that a family has discovered an antique table or a customer has found one and wants to know what it is worth. They see them on eBay or posted on various sites for ranges from 12,000 to 20,000 or more fully restored. The problem is that many different hobbyists, woodworkers, or shuffleboard enthusiasts restore old tables and resell them. They often do not take any of the original antique value into the restoration process, and they make the tables look brand new. Any Antique dealer or appraisal expert will tell you the more done to an antique, the more the value is hurt.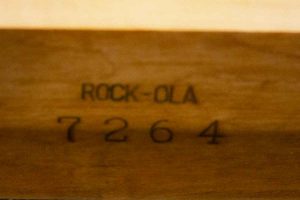 So often, the tables are devalued by the restoration rather than adding value to the table. In all the tables we have ever seen, we have only had one original and did not need restoration. The problem with the value of the tables is that we have about 60-80 hours of labor in the restoration process. We charge $5500 to $6500 for restoration services. Then we often have to travel great distances to get the antique table out of usually a basement where we need at least four men to pull out of the location where the table is. The cost to go pick up an antique table can range from $1000 to 2000 in labor to get the table. So you can easily see we can have up to $8500 invested in an antique table before paying the seller anything for the table. McClure Tables also owns the trademark and still makes new Rock-Ola Shuffleboard tables today. We have a little less time making a new Rock-Ola than restoring an old one, and the original table cabinets used Tulipwood or Poplar for the legs and horse collar. Today our original Rock-Ola tables are made using premium woods for the legs and horse collar, woods like Ameican Hard Maple Rock-Ola Shuffleboards, American Black Walnut Rock-Ola Shuffleboard Tables, or American Cherry wood Rock-Ola's. So we are much more partial to our new models than antique Rock-Ola tables.
The other problem with the antique tables is they were only available in 18 feet or 22-foot, with 95% of them in the larger size. The 22-foot size table across all the models and styles of custom handcrafted shuffleboard tables McClure offers is less than 10% of our annual sales. Then with the limited sales of Antique Rock-Ola tables, we can not pay anything for used or antique tables. We currently have over 5 of them, with two fully restored and available for sale on our website here in our section Antique Shuffleboard Tables. We have a few more and even an old American Shuffleboard table we plan to restore and offer for sale on our website soon.
Other posts to come on the restoration process of antique Shuffleboard tables.