Bring a Custom Shuffleboard Table to Your Hunting Lodge Themed Man Cave
No two man caves are the same, as every guy lucky enough to have a space to escape should tailor-make the room to suit his personal tastes. Even though an overall theme may be decided upon for the design direction of a space, the room itself should still be tailor-made to suit the owners personal interests. This is why a customizable shuffleboard table is the perfect component of the ultimate man cave, as it can be designed with the individual in mind.
One of the ultimate man cave themes is the hunting lodge. Not only does this theme reflect a particular hobby that is the height of masculinity, but hunting lodges are also extremely warm and comfortable spaces to relax and spend time in.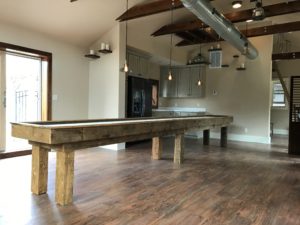 Set the stage for your hunting lodge themed man cave by ordering one of our Dakota shuffleboard tables. Handcrafted using reclaimed barn wood at our Grand Rapids, MI workshop, our Dakota shuffleboard tables are fully customizable. This model is designed to have all of the rustic appeal and charm of an authentic hunting lodge because it utilizes exposed and unpainted wood that has stood the test of time.
One of the main design schemes of any hunting lodge is exposed wood, whether that is in the beams and panelling of the space or the furniture that is used throughout. Incorporate other furniture that features reclaimed wood, or at least wood that appears to be weather-worn, throughout the space.
By avoiding finely polished or overly detailed designs in your furniture and equipment, you can more easily relax. This kind of furniture requires less maintenance and can handle the wear and tear that is an integral part of a successful and enjoyable man cave.