Championship
Located in:
Texas
About:
American built is not just a trendy buzzword at Champion, but a way of life. Some operations have "American Assembled" product built elsewhere, shipped here and "put together" in the U.S.. At Champion, unfinished wood comes in one end of the building, we do all the cutting, forming, curing, sanding, staining, processing and packing here in our Richland Hills TX facility, and finished tables leave our dock. As a result we have control over our quality that producers located elsewhere cannot match, as well as a far greater ability to allow that extra degree of customization. It's not a Champion table, it's your Champion table. https://www.championshuffleboard.com/
I don't know if we should just copy from their web site as say something actually about them. Like Champion is a variety of game tables they own Valley Dynamo Connoly Home pool tables and toronodo foosball tables they started orginally as a shuffleboard division of dynamo games a competitor of Valley Dynamo that made coin operated and home pool tables. Champion is the only verifiable manufacture who is selling shuffleboard tables who actually make their own playboard in house but they use soft maple from Canada and the poured polymer tops
Price Range:
Champion is sold through a many dealers from brick motar to GameroomGuys to Shuffleboard Federation and several others on line the price range is 2800 to 12,000 look up exactly 
Customizations Offered?
Yes
Can You Add A Custom Logo?
Yes
Table Sizes:
7', 9', 12', 14', 16', 18', 20', 22'
Wood & Finish Variety
Maple, Oak, Laminate, Red Oak Veneer, Maple Veneer
Stain Colors: Antique Mahogany, Metal, Rustic Grey, Espresso, Mill Creek, Capri, Black, Mahogany, Heritage Mahogany, Cordovan, Natural Lacquer
Playboard Material & Thickness
3" Thick Canadian Maple playboard with polymer finish
Do They Offer Installation?
Varies by dealer
Do They Offer Free Shipping?
Varies by dealer
Shuffleboard Models:
McClure Tables Shuffleboards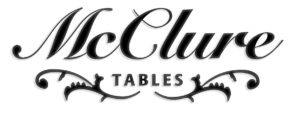 Manufacturing Location:
The McClure Tables woodshop, where all cabinets play boards and component parts are made in-house, is located in Jenison Michigan.
Environmental Social Economic Impact :
The main ingredient needed for the best shuffleboard play surface is North American Hard Maple. We use hard maple on all our construction, not just for the play boards but for the cabinets and legs as well. The wood is grown, harvested, and kiln dried within 3 counties whose borders touch. Therefore the environmental impact of transporting raw materials to the craftsmen who will build the product is very small. The raw materials, labor, and other resources available to build shuffleboard tables are all in our woodhsop; only finished products leave.
About:
McClure Tables proudly features an amazing collection of unique shuffleboard table models in addition to faithful reproductions of the famous Rock-Ola tables built in 1947 and 1948. All McClure shuffleboard tables are handcrafted in our 18,000 square foot facility located in Grand Rapids, Michigan. Once known as the furniture capital of America, Grand Rapids has a rich history of fine woodworking craftsmanship. This history of excellence goes into every shuffleboard table we build, refinish, or repair. Each and every shuffleboard table is crafted by hand, finished, and closely inspected by our team of highly skilled and dedicated woodworking artisans. To provide the highest quality and beauty, all McClure shuffleboard playing surfaces are made with hand-selected, premium-grade cuts of Michigan hard maple. Coated with an ultra-durable finish, the McClure standard ensures your shuffleboard table will stand up to decades of exciting game-play. – mccluretables.com
Where to purchase:
McClure Tables are only sold directly by the company or craftsmen who build the product. You can not buy McClure Tables from Amazon or any reseller and we do not contract-manufacture for any other brands. We have twowebsitess that you can purchase McClure Tables from:
You can find our widest selection and all customizable options at McCluretables.com
If you'd like to browse our ready-to-ship inventory, which includes a selection of the most popular models with fewer customizations, then head to McCluretables.net.
Customizations Offered?
Yes – Lights, Scoreboards, Score Beads, Cabinets, Wood Type, & Finish add a logo to any model
McClure Tables Complete Shuffleboard Table Price Range: 
$3,295 – $28,000 We offer tables in every price range style and cabinet but we do not make a good better or best, every model is made with the same hand crafted care and love using the same top quality raw ingredients.
Customizations Offered?
Yes – Lights, Scoreboards, Score Beads, Cabinets, Wood Type, & Finish
Can You Add A Custom Logo?
Yes
Table Sizes:
9', 12', 14', 16', 18', 20', 22'
Wood & Finish Variety
Cherry, Hickory, Parson, Walnut, Maple, Chestnut, Mahogany, Mocha, Cinnamon, Oak (natural, medium, provincial), Black Rubbed, Black Opaque, Heirloom, and many more!
Playboard Material & Thickness
Guaranteed Full 3.0″ thick Michigan hard maple playing surface. + A Lifetime Warranty Traditional Piano Polyester Finish (10 times harder than Epoxy/Polymer Poured Resins).
Do They Offer Installation?
Yes
Do They Offer Free Shipping?
Yes
Shuffleboard Models: