Charles Limbert Arts and Craft Furniture Inspired The Limbert Shuffleboard
Charles Limbert was born in Lyonsville, Pennsylvania in 1854 and died at his home outside Grand Rapids, Michigan in 1923. He opened his furniture factory in Grand Rapids in 1902. He was one of the most successful furniture leaders in the history of Grand Rapids and the Arts and Craft movement in America. The furniture that bears his name is often some of the most extraordinary work of the arts and craft furniture every made. To this day, it is highly sought after and thoughtfully collected. In his honor, we have named our latest Shuffleboard model 'The Limbert".
Charles Limbert collaborated with several major furniture builders and designers in Grand Rapids in the late 1800's such as "Klingman and Limbert Chair Co" and his own furniture selling commission called "Charles P Limbert & Co", he opened his own name brand company, the "Charles P Limbert Furniture Co" in Grand Rapids in 1902.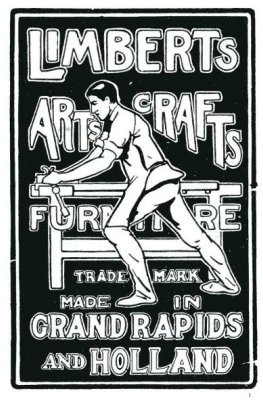 Grand Rapids has a rich history of early Dutch Arts and Craft furniture. Charles Limbert always used the term arts and crafts to describe his furniture and never used the word mission. He visited Europe several times and studied examples of Dutch peasant furniture. He was always acknowledging the influence of the German and Austrian Secessionists on his work.  We did not set out to copy the style of a company that made this style of shuffleboard, a furniture company in Tennessee like many game table and pool table manufactures also makes Shuffleboards under the name of Kush Shuffleboards. If you would like to review or learn more about how McClure Shuffleboard Tables compare to Kush Shuffleboards read this blog post here.
A client of McClure Tables sent them a Pinterest page picture of the style of shuffleboard they liked. They recognized it as the Kush model the Craftsmen see the model comparison here, but the customer wanted the best playboard and warranty in the business. So they asked McClure if they could make a style like this. The team of craftsmen responded absolutely as they always do if they can have some creative liberty on the design. A few things we did not like, first they could tell that the beam arch made on a CNC computer-generated machine was not even a perfect arch. The metal corners on the corner of the table were out of place when a high-end joinery technique like a dovetail joint would be more fitting for the arts and craft style. We understand the metal industrial look is fashionable right now, but the metalwork looks like the welds look like an 8th-grade shop student performed them not a high-end metal artesian experienced welder.
At McClure Tables we do not just build shuffleboard tables we craft them one at a time in our Grand Rapids woodshop. We do not even use auto cad drawings these creations are done with master woodworkers who use their imagination and creativity to make the finest shuffleboard tables available in the world. We ship McClure Tables worldwide and have tables in Japan, Australia, Taiwan, Netherlands, Russian, Israel, England, New Zealand and if we have not mentioned your country yet then what is stopping you? Order a custom handcrafted shuffleboard table at McCluretables.com  made in America handcrafted in Michigan. This is what we crafted our latest Shuffleboard model "The Limbert" See the photo gallery below
If you would like to see how the table came into shape and the craftsmanship that went into the design, see our video here.
We put in our creative style and designs, and this is what we came up with The Limbert Shuffleboard Table.