Choosing the Right Pucks for Your Shuffleboard Table
Whether you are a hard core shuffleboard enthusiast or just an occasional player, having the right-sized shuffleboard pucks for your table will add to your playing enjoyment.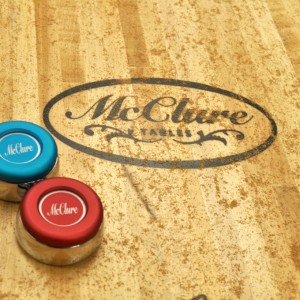 The size of a shuffleboard table can vary significantly ranging anywhere from nine to twenty two feet in length, and it therefore follows that the playing tools should correspond. Having the right equipment adds to the enjoyment of any activity and using the right-sized puck with the correspondingly sized table is no exception.
If you are planning to purchase a table the space you have available may be the most important factor in your decision. The space you devote should also take into consideration enough room to comfortably execute the play. Generally a space of three feet beyond each end of the table should be adequate. A similar minimum amount of space on at least one side is preferable in order to allow for player rotation and spectators were applicable.
The puck size itself is most often determined by the size of the shuffleboard table that is being used. There are two specific sizes of puck that are generally accepted for recreational and tournament use which have diameters of two and five sixteenth inches and two and one eighth inches. The smaller pucks are best suited for tables that are shorter, typically nine to fourteen feet in length and are usually around eighteen inches wide; as measured on the playing surface.
Conversely, the larger pucks with diameters of two and five sixteenth inches are best suited for the longer and wider tables. For Table Shuffleboard Association tournament play these are the approved sized pucks. Tournament approved tables have playing surfaces that are twenty feet eight inches long and have a width of twenty inches.
The larger pucks allow for more competitive strategic play on the wider surface. Besides having specific diameters the pucks need to be of a specific weight if you plan on playing in sanctioned tournaments. The weights that the players use must be between three hundred and ten and three hundred and forty grams or around 12 ounces.
Playing on tables that use correctly sized pucks and table sizes will go a long way in developing your skill and consistent play. This is due primarily to the fact that the level of play is not determined by physical strength but rather relies almost exclusively on the player's ability to direct the puck with the greatest amount of control and accuracy.