Crazy Eights: It'll Bring out Your Competitive Spirit
A game of table shuffleboard can be as complicated or as simple as you'd like, whether you're playing a lighthearted tournament with younger children or you're involved in a competitive duel with a seasoned champ. The most addictive games are the ones where even getting one point is a challenge, because every time you come close to scoring and miss, your appetite for points only grows.
One game that will get you hooked and bring out the competitive beast lurking within is Crazy Eights. To start off, you throw four weights of the same color down the board at once with one hand, requiring that you stack the pucks strategically and aim for the foul line at the far end of the table.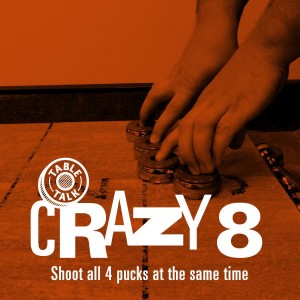 This first step alone could knock you right out of contention, since if you don't get all of the weights past the far foul line, you immediately get no points and can't move on to part two in this round. Same goes if you overthrow and your weights fall into the gutter – if all four pucks aren't in the endzone, no points can be scored.
Now, if you were able to accomplish this first feat, you take four weights of a different color and, one by one, throw them at the other end of the table trying to knock the previously thrown pucks out of the end-zone and into the gutter. You'll want to be careful to get all of the original four pucks off the table, as you get no points if any remain. The number of pucks that make it past the foul line while staying on the table will constitute how many points you receive this round.
You rotate doing all of this among players and designate a score to determine a winner. For example, the person who gets closest to 21 after everyone has had an equal number of chances to score will be the winner.
This is a game that can last awhile, get extremely competitive and commit players to building up skill on the shuffleboard.