Creating Your Own DIY Shuffleboard Table
When you're away from home and the option of playing on your own shuffleboard isn't in play, you can try creating your own version of the game with just about any tabletop. Creating your own DIY shuffleboard table is as simple as finding a perfectly flat surface, a puck-like object, and knowing the rules of the game.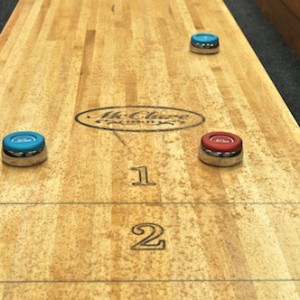 The Table
It seems like an easy concept to understand, but the proper surface for a DIY shuffleboard table can actually be a tough thing to recreate. After all, real shuffleboard tables have a slight concave to them, which typically draws a weight inward. So, while it might be complicated finding an exact replica, you can still have fun with a surface that is smooth, flat and has a slick finish on it.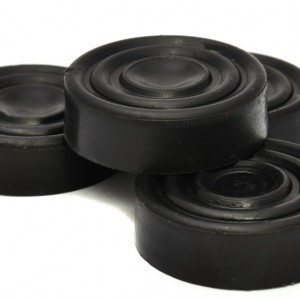 Puck Options
The surface of your DIY shuffleboard table is critical, but there is no game without something that resembles pucks or weights. Need ideas? No problem! There are some common items that will make awesome pucks, which you will probably have readily available in your home. From objects as small as pennies and checkers to homemade efforts similar to paper footballs, pick something that is light enough to travel without too much effort.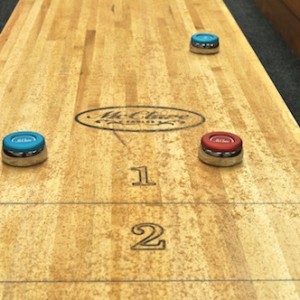 Scoring
While the great thing about McClure shuffleboard tables is that they already have scoring lines on them, you'll have to get creative when it comes to your DIY shuffleboard table. If you're table has seen better years, you can use chalk or erasable marker to create defined scoring zones. If you don't want to mess up a newer table, you can still play shuffleboard by creating distinct sections with practically anything in your home.
For a traditional game of shuffleboard, set up the scoring zones in the classic 3, 2 and 1 sections with a line in the middle of the table denoting the separate sides. Each of these scoring zones is worth their number value ascribed to the area and anything puck that comes to hang on the edge of the table are worth four points.
Playing shuffleboard is a great way to have fun at home, but if you're aren't around your own table, you can still play your own version of the game. Take shuffleboard on the road by having your DIY shuffleboard table kit with you at all times. With some help from a few simple household items, any flat surface can instantly become an awesome shuffleboard table.