Add A Custom Logo to Your McClure Shuffleboard Table!
All McClure Shuffleboard tables come with our McClure logo on each end of the board, we do however love to customize. Everything from the color of the cabinet to a custom logo on your play surface. In the past our only option was using the two part bar top epoxy (polymer finish) we now prefer a traditional butcher block play surface. After years of research we now offer a custom logo on our traditional finish play-boards. This is an update to our custom boards all the images shown in this post are with the new traditional finish.
Here are a few examples of custom logos we've done and the stories behind them. To view more custom logo work, check out our custom logos page.
Example 1: Hemingway's Up North Pub
When this customer first came to us his logo was just in black and white.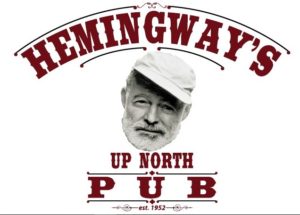 While he loved the logo, he was hoping to add a little bit more color. We assisted in choosing a color that would match his color scheme and with the help of our friends at Eagles Eye Graphics we were able to do just that. After viewing a couple of different colors options, we decided on our favorite. The decal was then created and was ready to be applied to the table. Since this table was in our neck of the woods our production manager, Angus personally delivered the table. Hemingway's Up North Pub was able to have their personalized shuffleboard table in time for opening!
During a game of shuffleboard, you play on both ends so we faced each logo towards either end, making them visible to both players. In some cases, customer's like just one logo on the center of the table, in that case we would face the logo in the direction that you would approach the table.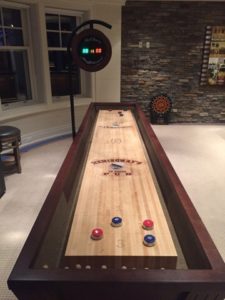 Example 2: A Custom Family Logo
Here at McClure Tables we not only love to customize but also accommodate our customer's needs. Our customer ordered this beautiful handcrafted Prestige Shuffleboard table for their downstairs family room. Unfortunately, they did not plan as to how to get it into the room. Our playboards come in one piece unless specified to come in two pieces. In this case the 14ft playboard could not be maneuvered to fit down the stairs. After speaking with the customer, we arranged for the playboard to be shipped back to our warehouse and for us to make a new playboard in 2 pieces. When the customer originally placed the order online a logo was not requested but after having to return the playboard we were able to customize the board a little further. A custom family logo was added to the 2-piece playboard surface.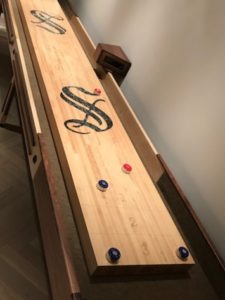 We try and thoroughly explain to our customers what delivering a shuffleboard table entails but, we do realize that mistakes happen. Our customers come first here at McClure Tables, whether its your mistake or ours we will get the situation figured out.
Example 3: Boston Scientific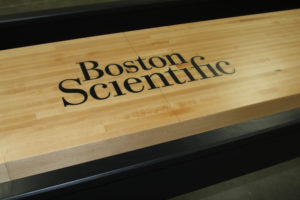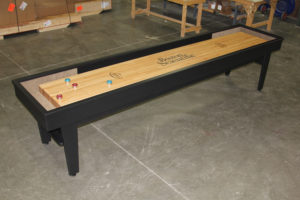 Boston Scientific (a worldwide developer, manufacturer, and marketer of medical devices) had their logo placed on a 12-foot patriot table.
---
See some previous examples of custom logo shuffleboard tables we used to do these boards with the polymer poured epoxy style tops.
Have an idea in mind? Contact us and our talented team can make it happen! Let us know your ideas on a custom logo for your very own personalized Shuffleboard Table.
We will keep this post updated with images of customer's orders that include a custom logo on shuffleboard tables.