Even without the Whole Table You Can Enjoy Shuffleboard in Your Home
If you'd like to play shuffleboard in your home but you aren't sure you have the room for an entire table, you can opt out of purchasing the entire table and instead just invest in the main alley.
Although McClure Tables sells playing surfaces to replace the main alley of a table that has been damaged, it can be purchased so games can be played even if you don't have the space to consistently host shuffleboard tournaments.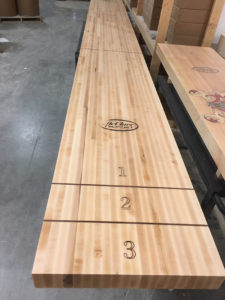 These playing surfaces come in every size that we offer for traditional shuffleboards tables and are built to regulation specifications. At two inches thick and 18 inches wide, the alleys are made out of the same fine Michigan maple that we use for our regular tables. Because this wood is inherently durable, these playing surfaces are made to last, and when properly maintained, should never fail to produce a good game.
If you buy a shorter playing surface, like one of our 9 foot long playing surfaces, you can keep it in a closet when it isn't in use. Then, set it up on a surface in a given room, whether that be the bar in your man-cave or the dining room table. You could practically play any of your favorite shuffleboard games in any room of the house.
Even though you have the option of portability when you purchase just the main alley of a shuffleboard table, there is really nothing like playing it on a quality built table crafted specifically for this game. These alleys can replace the playing surfaces on an existing table, whether it was built to inferior standards by a different company or has been permanently warped by years of heavy usage.
No matter how you choose to play, McClure Tables has the equipment that can bring the ultimate shuffleboard experience into your home.