What to expect with free delivery of your new Shuffleboard Table.
What does free shipping on a shuffleboard table include?
Included with every handcrafted McClure Shuffleboard Table is free curbside shipping. McClure Tables offers home delivery service for our shuffleboard table at check out. Prices vary by table model, size and end location of table (up or down stairs). All Shuffleboards 12 foot or shorter includes a lift gate service to assist getting the table off the truck. Inside delivery or labor to unload is not part of the free shipping service provided. This article what to expect explains how tables are packed and shipped just exactly what is involved to unload your shuffleboard table and how we pack them.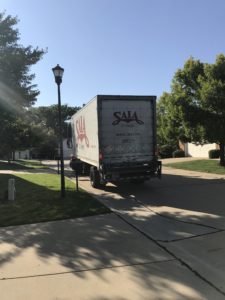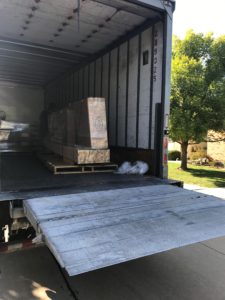 Customer shuffleboard tables are shipped with LTL carriers, trucking terminology for (less than truckload). All handcrafted shuffleboard tables are shipped on semi-tractor trailer freight commercial carriers as shown here.
Will They Put my Shuffleboard Table in the Garage?
The service does not include inside delivery or putting the table in the garage. Customers are responsible to provide enough labor to remove the table from the truck. See the picture below of a 22' table crated, boxed and ready to ship. A larger table like this will not fit on the lift-gate, so lift gate service will not be added and we advise you have four or more people to unload. Below is a picture of a large table how the packing is done, you see the straps you can cut off and remove the two cabinet boxes that often have legs packed inside. Typical weight of a cabinet is 200 to 300 pounds the crate on the bottom is the heavy part. The playboard is packed inside the crate and net weight on a 20 foot to 22 foot board can be 450 to 500 pounds, the crate is about 250 pounds so total shipping weight on a 20 or 22 foot table can be 1200 pounds.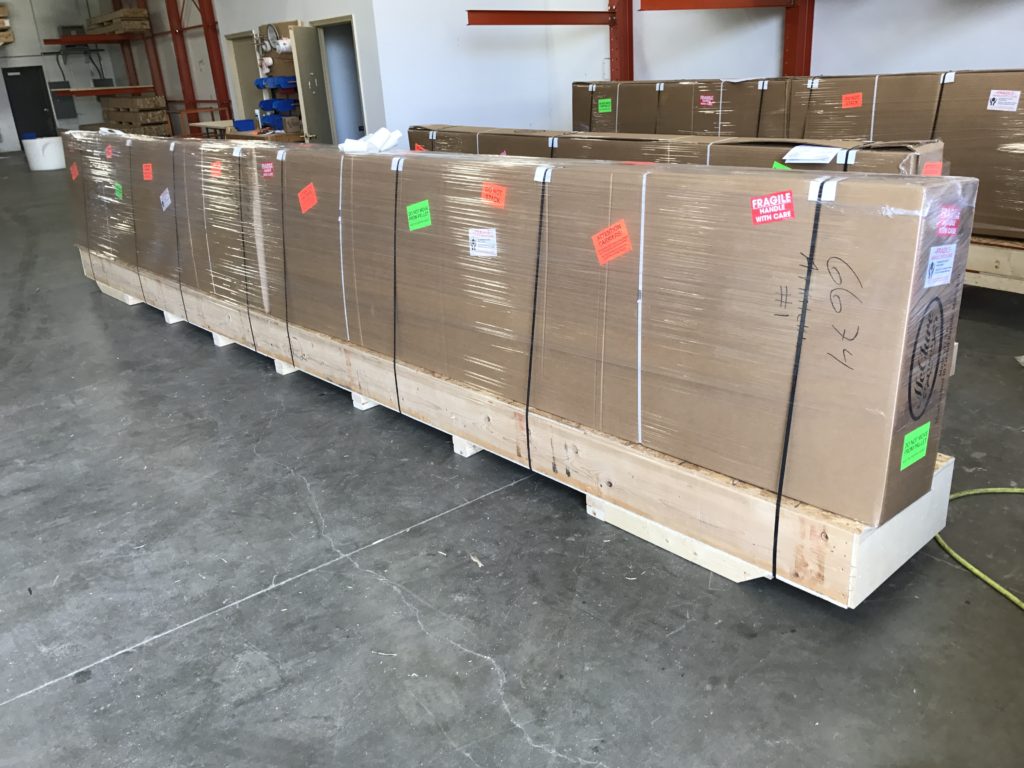 When do they deliver my new handcrafted shuffleboard?
The trucking companies or delivery service will contact you the day before delivery and set up an appointment. Normally this is an 4-8 hour window but the driver will usually call 1 hour in advance day of arrival. Once you have been notified the table is shipping, normal transit time is 5 to 7 days and shuffleboard table deliveries are scheduled Monday through Friday. The curb side delivery service included means the truck driver is responsible to get the table off of the truck and curb side. You must provide a least two or more people to help unload. If you have ordered installation service then normally the installers will receive the table and bring out to your home in their own trucks to set up and install.
What other options for delivery of my handcrafted shuffleboard?
Free curbside delivery service does not include putting the table in your garage or bringing it in the home. In the video shown a truck driver helped both get the table off the truck and into the garage but it was not his responsibility. You can hire moving and storage companies or local handymen to assist or in some cases even receive the table and bring it out to your home to set up and install. McClure Tables staff can provide delivery and set up in most locations worldwide. Shuffleboard Tables are handcrafted in Michigan with pride and we carefully pack the shuffleboard tables so they arrive safely. Inspect the boxes and crate for any visible damage and call 800-565-0977 if you see anything unusual or of concern.
[/vc_column_text][/vc_column][/vc_row]