Finding The Perfect Shuffleboard Table For Your Home or Business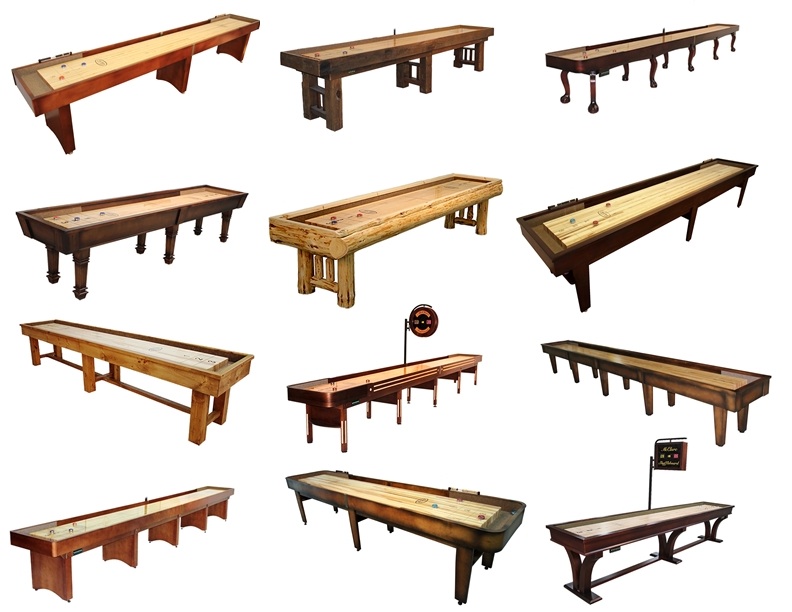 Whether you're looking for a shuffleboard table that's elegant, rustic, sleek, or practical, McClure Tables has the perfect style of table for all sorts of home and business settings.
In this guide, we'll be detailing the styles of some of McClure's most popular shuffleboard tables. Made in an array of designs with a variety of different locally sourced wood species, each McClure shuffleboard table has its own personality and character that it can bring to a room.
Competitor II Series – The Family Game Room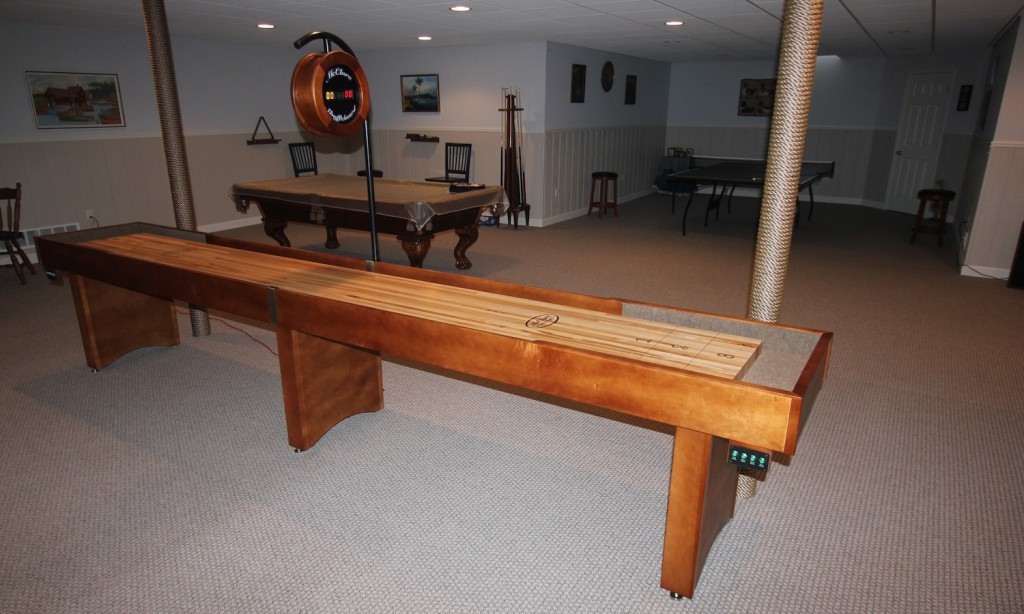 If you're looking to purchase an entry-level shuffleboard table for the whole family, it doesn't get any better than McClure's Competitor II.
While most entry-level tables are built predominantly from plywood, the surface and cabinet of McClure's Competitor II is built entirely with premium hardwood. With an 18" wide cabinet, the Competitor II is slightly narrower than standard tables to fit into tighter spaces and save on shipping costs.
Made with solid Michigan hard maple, the Competitor II is built to withstand countless hours of exciting gameplay. With four colored finish options available, the Competitor II is the complete package as an entry-level shuffleboard table.
As an alternative, McClure's Patriot shuffleboard tables also make for great additions to a game room or man cave. For the serious shuffleboard player, it doesn't get any better than McClure's Rock-Ola shuffleboard tables, which were modeled after the famous Rock-Ola tables made from 1948 to 1950.
Tournament Series – The Bar, Restaurant, or Arcade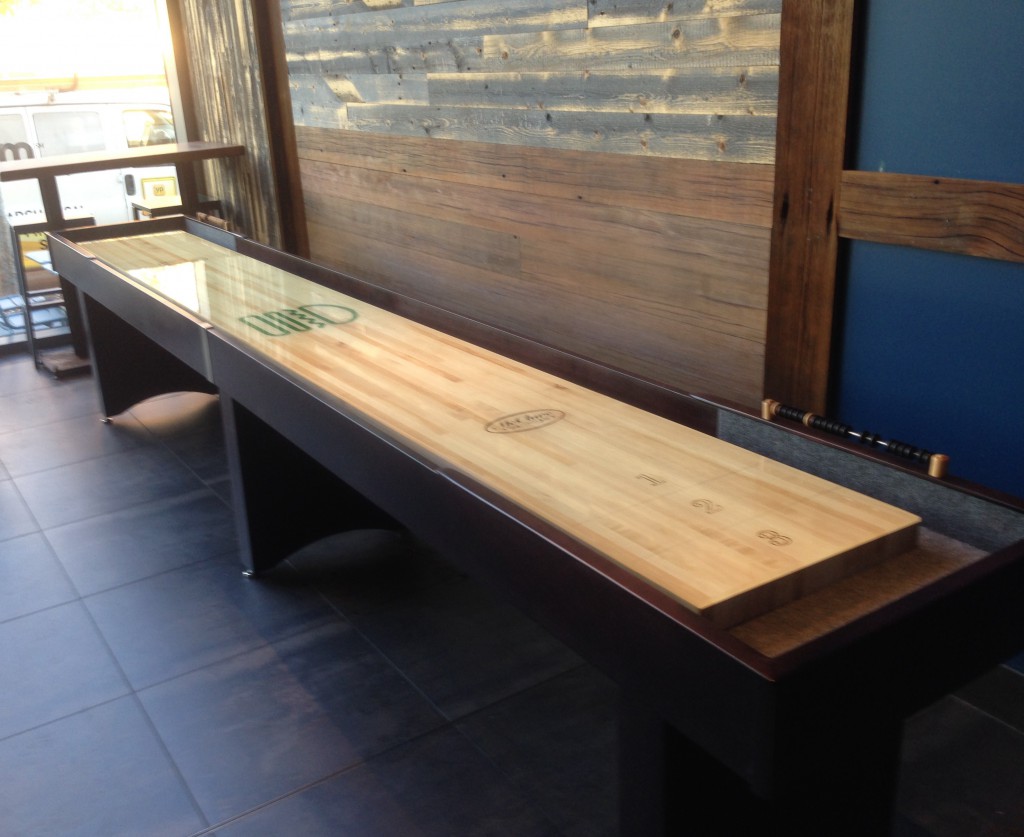 If you're looking for a shuffleboard table for a restaurant, bar, arcade, or even a bar-cade, McClure's Tournament Series shuffleboard tables make for a great choice. Built in a similar fashion to standard tournament-play shuffleboards, these tables are not only beautiful, but authentic.
Built with 30" wide cabinets and 3" thick playing surfaces made from Michigan hard maple, McClure's Tournament Series tables can withstand years of heavy gameplay. Like our Competitor II Series, the Tournament shuffleboard tables are also available with four different color finishes.
For tournament-style shuffleboard tables with individual handcrafted legs, check out McClure's Tournament II shuffleboard tables.
Ponderosa Series – The Cabin or Lodge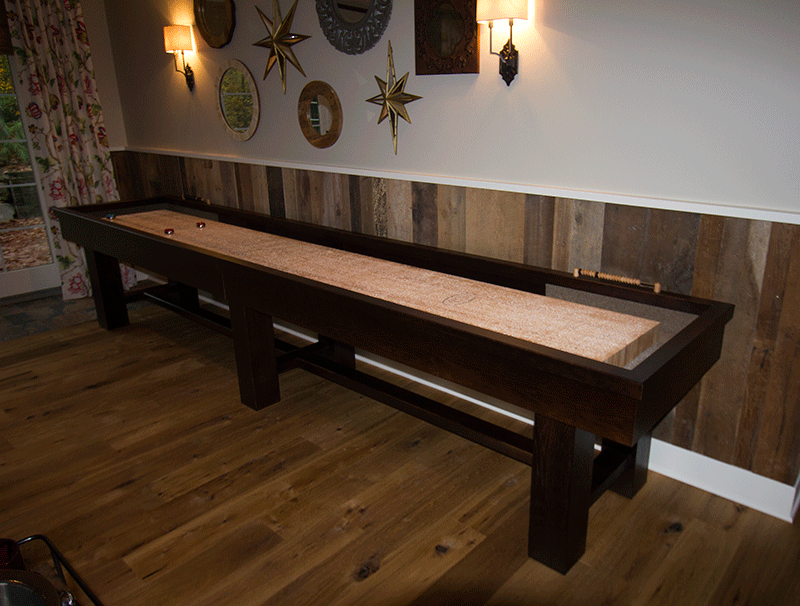 If you're looking for a unique, rugged look, McClure's Ponderosa shuffleboard tables are perfect for rustic settings. Built with a simple, country-style design, the Ponderosa tables feature 3" thick, 20" wide Michigan Hard Maple
Made with your choice of Eastern Knotty Pine or American Red Oak, the Ponderosa series tables are available in a total of seven different-colored finishes. Whether you're looking for a dark, bold table or a bright, rustic look, Ponderosa tables go great in settings with a unique, rugged vibe.
For other rustic looking tables, check out our Dakota Series made from reclaimed wood and our ultra-rugged Montana shuffleboard tables.
Edmore Series – The Country Club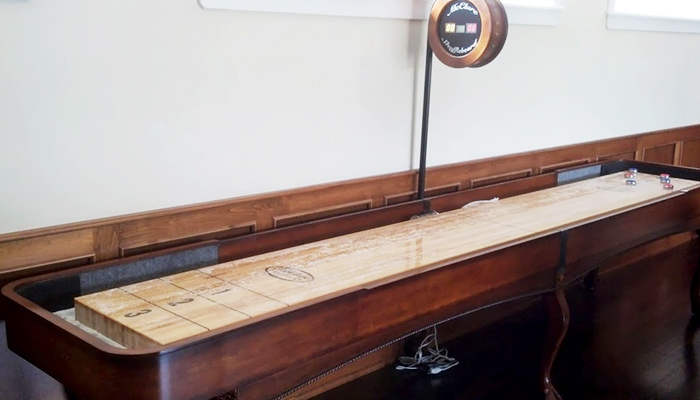 Made in a traditional Chippendale style with Queen Anne legs, McClure's Edmore shuffleboard tables offer a formal and elegant look that pairs well with upscale settings. These tables feature an arched cabinet with a beautiful hand-crafted trim.
With color finishes ranging from rich Traditional Mahogany to dark and bold Mocha, Edmore tables are customizable to vibe with the color of their surroundings. If you're looking for an exciting table game for an elegant setting, it doesn't get any better than McClure's elegant Edmore shuffleboard tables.
As an alternative, our Veneto shuffleboard tables and Huntington series also match wonderfully with elegant settings.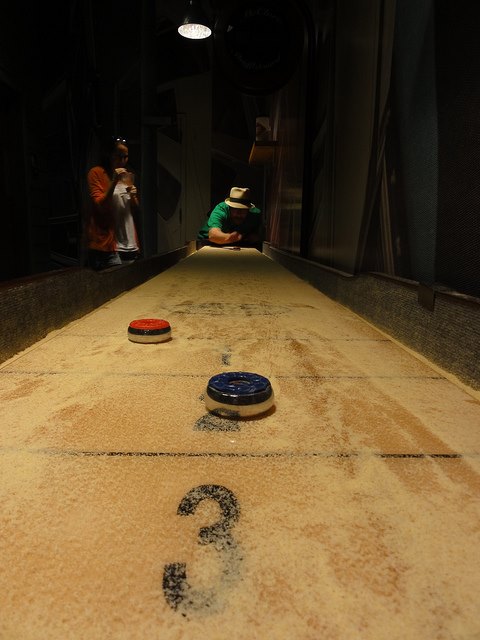 Though the tables above are great options for your next shuffleboard table purchase, McClure has much more to offer when it comes to premium handcrafted shuffleboard tables. We offer more than 15 uniquely designed shuffleboard tables ranging from 9 to 22 feet in length. Between your choice of style, size, color finish, and add-on accessories, there's sure to be the perfect McClure shuffleboard table for every type of setting.
While all of our tables are built to stand the test of time, every shuffleboard table we build is coated with a specially formulated finish that has a complete lifetime warranty. Additionally, each table purchase includes eight pucks and one can of shuffleboard wax powder.
Interested in learning more about McClure's handcrafted shuffleboard tables? Give us a call at (800) 565-0977 or contact us on our website and we can help you find the perfect table for endless hours of entertainment.