Board Game-Themed Game Room Is Perfect for All Ages
If you have kids in your house, you want to make sure that their game room is as fun and playful as possible. This is why many parents will establish a theme for the game room given one or all of their children's tastes. While this may work wonderfully when your children are toddlers, by the time they hit middle school, the style choice you make for the interior design of your kids' game room may not be as popular as it was when they were younger.
You also want to avoid choosing a theme for your children's game room that will may be overly violent. If your son, for example, has a penchant for action movies, you probably don't want to deck the room with violent posters that aren't necessarily appropriate for younger members of the household.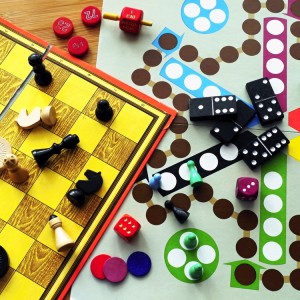 A good compromise between age appropriate, safe and timely is a board game-themed media room. While you don't have to go nuts proclaiming your love for Battleship and Candyland, you can implement a few playful design cues into the space that will make it fun and entertaining.
If you don't mind a fun art project, consider taking a lampshade that you would have in this space and decking it out with monopoly money. You can layer the fake bills over each other in colorful arrays that make it come to life.
Using spare cardboard boxes and a little bit of paint, consider making a series of large scrabble pieces that you can hang on your wall to spell out either a fun message or the family name.
The opportunities are endless when it comes to turning the area where you and your family enjoy shuffleboard into a tribute to your favorite board games.