Host a Shuffleboard Tournament at Your House This St. Patrick's Day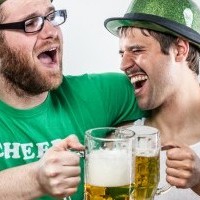 Whether or not you are Irish, odds are you'll be wearing green on St. Patrick's Day. This holiday, which celebrates the mythical saint who allegedly brought Catholicism to Ireland while ridding the island nation of snakes, is hardly a religious affair for most who observe the feast stateside. In fact, aside from Mardi Gras, this holiday is considered one of the biggest party days of the year.
While many observers hit up bars and pubs to drink green beers or black Guinness on the holiday, you can have just as much fun hosting your own shuffleboard party from the comfort of your home's game room.
It's not hard to transform the place into your own personal authentic Irish pub for St. Patrick's Day. In fact, all many bar owners do is grab some green food coloring to give the beers a festive tint and throw some cardboard clovers on the walls.
Take it a step further and raise the stakes by hosting a shuffleboard tournament at your own house for the holiday. This way, you won't have to worry about overpaying at the bars and can get as rowdy as you'd like – after all, you own the joint.
You have more than a week to prep, send out your invites now so that your friends and family won't make other plans. Since the holiday is on a Sunday, consider hosting your party the night before so that everyone can stay up late and not have to worry about work in the morning.
Make sure to sing a few rounds of Irish drinking songs throughout the festivities. For those who lose during the tournament, force them to do their best Irish jig for those in attendance.