How to set up and install a Shuffleboard Table
How to set up a shuffleboard table
The first step of setting up a shuffleboard table is un-crate the board and carry the heavy play-field surface into the designated room. Installation of most Shuffleboard Table cabinets are pretty straight forward. Our 12 foot and 9 foot size cabinets are normally shipped in one piece with two legs. The longer shuffleboard cabinets have two half's that will connect at the center leg. The most important consideration before setting up the shuffleboard is how to get the board into the room or home.
Do you have room to maneuver Play board?
Shuffleboard play-boards are 18″ shorter than cabinet. If the shuffleboard table is 14 foot long then the play board will be 12 foot 8″ long. McClure Tables play board is shipped in a crate as shown here in this post on the 411 of packing. You will need to be able to maneuver this play board with climate adjusters attached. If you order set up or installation service this does not include out of the ordinary situations like the one shown below with a crane to hoist the board through a window. These pictures were taken in Amsterdam in the Netherlands McClure Tables can even offer international shipping and installation. In some cases we will personally assist with the installation. Owner Todd McClure and his wife traveled to Netherlands and helped with this installation.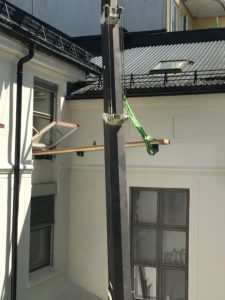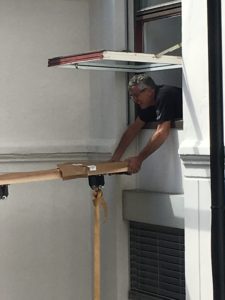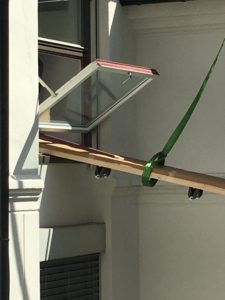 McClure offers other alternatives for elevators or tight spaces such as two piece play-boards shown below. We can also make 12 foot cabinets in two pieces to accommodate getting the shuffleboard into the room or space where it will be used.
All play-board's are made as a one piece board at the time the order is placed. For a two piece play board a dowel system and tight joint connects the two halves together. If you need a two piece play board or even a two piece cabinet on a 9 foot or 12 foot model, you must order a custom made table and have these options added when McClure Tables builds your table.
Shuffleboard Table Installation for 2″ play-board.
Watch this first video of a Competitor II model installation, both tables have difficult room access. They are both down stairs, with one board carried down the stairs and around the corner. The other board was brought through the window. McClure no longer packs any of the play boards inside the cabinet. One exception is 9 foot models, we may pack the play board inside the cabinet box and ship on a pallet. Most tables however, ship on a crate and you can see this post about how tables are packed.
Competitor Shuffleboard Table Installation for 2″ play-board.
Liberty Shuffleboard Table Frame Installation
This video shows the shuffleboard table installation of the Liberty model shuffleboard cabinet. In this video you will find a helpful top on how to trim or cut the carpet on your McClure Shuffleboard Table.
;
Tricks to move a play-board or install into the cabinet.
Shuffleboard Table Tops are very heavy and you can use some tricks like the wheel dolly shown below, used to maneuver a play board. We use a taller dolly that we custom made that will lift a play board to a height easier to lift into the cabinet. With our custom dolly one person can manage a board. A two wheel hand truck can also be used however, the board will be much lower to the ground but, if you use the handle as one end and the lip of the shelf you could stack boxes on as the other end. Then a two wheel hand truck can function similar to photo below.

Shuffleboard Table Installation for 3″ play-board.
Pay attention in this video how we show moving the play board into the cradle. The trick is to roll the play board into the cabinet with the top down and the climate adjusters up. If you put a blanket or moving pad on the side and rest one half of the play board and one half on the cabinet side then roll over into place. When the board is standing on its side then remove the wrapping and blankets. Most shuffleboard table installation is straightforward and most do it yourself consumers, handymen or even local moving storage companies will have no problem setting up a shuffleboard table.
Stay tuned for more videos and helpful tips about shuffleboard table installation.