If You Have a Sports Bar Shuffleboard is a Great Addition
Bar Shuffleboard A Great Addition
Every business person is always looking for ways to enhance their enterprise, from product offerings to superior customer service. For the tavern owner, having a shuffleboard table for your guests is one way to do just that. Because of the relatively small space needed, bar shuffleboard is a great way to maximize the utilization of floor space and increase the satisfaction of your guests. Unlike billiard tables that have felt tops and need significant room for play on all four sides, shuffleboard is relatively low maintenance and can be placed near a wall, out of the way.
With its simple rules, and quick learning curve, shuffleboard presents a uniquely entertaining experience in today's high tech entertainment world. Like many games of skill the enjoyment factor increases with the level of ability to perform. The experience can be likened to bowling or golf, only within your bar!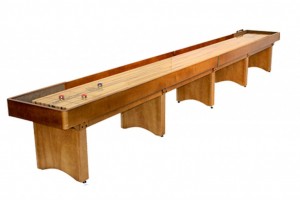 Your visitors and regulars will have an opportunity to get their competitive juices flowing, and will continue to return to your bar to play further competitors of various skill levels. Even once the basics of the game are understood and mastered, a whole new world of strategy becomes more pronounced.
Players will learn that the game may dictate more aggression on the offensive side, or conversely use all of your strategic ability creating a ironclad defense. The exhilaration comes from defeating a competitor not just through the physical skill you develop, but more so, the mental game whereby you implement tactics that confuse and control your opponent.
It is for this very reason why we love the game of shuffleboard so much, and why bar shuffleboard will continue to bring customers into your tavern for a game!
The size and length of the shuffleboard table lends itself not only for bars, but also adds additional tactics for successful game play, making the game even more exciting. Based on a player's particular skill set, techniques can be developed to use different parts of the playing surface for their advantage.
However, regardless of the skill level of your clientele, bar shuffleboard is not only great for your customers, but also for your business. It can increase the overall experience of your bar, and create fun times for everyone, whilst taking up less space for customer seating. Some of the places that have put in a McClure Shuffleboard can be found here at Places to Play Bar Shuffleboard.
It really is win-win!
---