Keep Your Table Level by Monitoring the Climate Adjusters
There is no reason why your shuffleboard table wouldn't get a lot of heavy use, as the number of activities you can play on it is practically infinite. However, just like a luxury car or an expensive toy, even the highest quality shuffleboard tables need regular maintenance.
One hidden feature that lets you control the quality of play are the climate adjusters. These are a series of bars underneath your table that allow you to control the concavity or convexity of the main alley to ensure that your pucks won't slide off the table or swerve when lagging.
Basically, you'll want your table to be as flat and even as possible, but with an almost unnoticeable dip near the center that make the edges slightly raised. The table is designed this way so that your weights won't inherently glide towards the gutter. This also allows your pucks  to straddle the gutters instead of falling right in, which is vital to scoring in most games where this move often accounts for doubled points.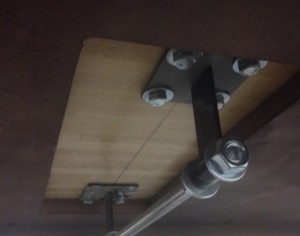 A good way to make sure your table is evenly adjusted is to place a level over the board widthwise to ensure that there is no tilt. Then, if your alley is even, a piece of paper should be able to slide freely underneath the level. Do this test above each of the table's climate adjusters, which you can identify as bars with three long bolts connecting them to the underside of the alley, putting pressure on the table. Should the table be uneven or convex at any of these points, screw the nut on the topside of the bar down so that the bolt is pushing up against that section of the alley.
Check this every month or so to keep the height levels the entire length of the table even, guaranteeing that you'll have the greatest quality of play possible. For tips on different types of climate adjusters and how to adjust see our shuffleboard maintenance video on our web site here.