Kush Shuffleboard 
Located in:
Tennessee
The Craftsmen: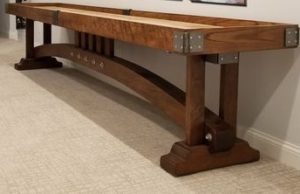 The Kush Shuffleboard Table model the Craftsmen side by side comparison
Cabinet construction Standard is Poplar or Tulip-wood with optional upgrade to Cherry wood.
PlayboardStandard 2.25″ Appalachian Maple? playing surface with a 1/4″ polymer coating – Net wood play board thickness 2″ Thick3″ North American Hard maple Maple playing surface available as an upgrade with polyurethane finish. $800 more
Custom Stain $450 more
Leather padded corners upgrade $550 more
Corners metal welded angle Iron cabinetry
Price range starting with options above at $16000
We do not know much about Kush shuffleboard tables, but their web site is very vague, and we do know like virtually every brand we compare or know of sold they have a multi-tier distribution policy. The factory gets one price, the resale dealer or retailer charges you another rate. When you buy from retail dealers or resellers then more of what your paying is going into marketing rather than top quality materials and craftsmanship to used in the manufacturing of the product.