McClure Custom Logo Tables
Every so often a client asks us to make a 'Logo' table for them.  This simply means we replace our McClure Tables logo with one of the clients choosing. Usually, it's a company logo but sometimes we'll do a sports team or even a personalized logo, like a family crest.
To help illustrate the variety of what can be delivered, we made this page. On it, you'll find many of the custom logos we've done and a few stories to go along with some.
Enjoy!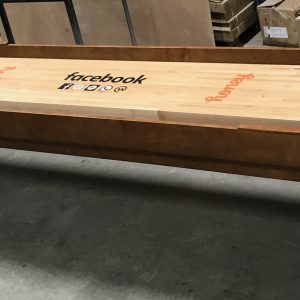 Facebook & Honey
We had the excellent opportunity to build a custom table featuring the Facebook and Honey logos. This table will be going in an office game room and will surely receive a few 'likes' from the staff!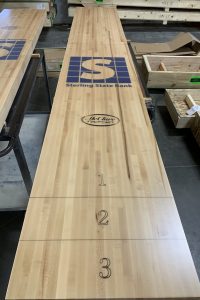 You can bank on your employees stress levels going down if you add a custom shuffleboard table to your break room. Great break from the daily grind who knows during a relaxing game of shuffleboard might just be the next breakthrough idea. This table will be a great addition to Sterling State Bank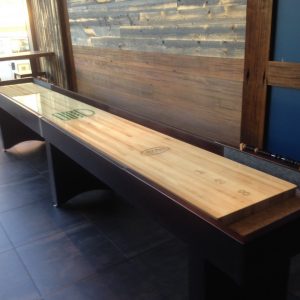 Shake Shack Shuffle: McClure Shuffleboards Now In 6 Shake Shack Locations
Shake Shack is a New York City-based fast casual restaurant chain known for their delicious New York-style hamburgers, hot dogs, fries, and delectable frozen custard. While Shake Shack made a name for itself through its mouthwatering food, the restaurant chain is also enticing customers with custom-branded shuffleboards from McClure Tables.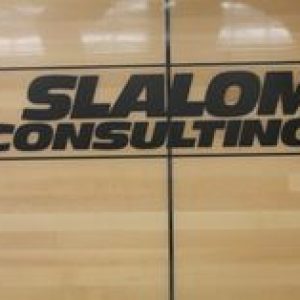 Slalom wins again and so do their employees
Over the past decade, Slalom has steadily accumulated awards in employee satisfaction, even as the company expanded to over twenty offices situated from coast to coast and abroad as well. They have been honored with  Glassdoors' Best Places to Work award for seven consecutive years (2009 to 2016). They have made Consulting Magazines Best Firms to Work For list in 2014 and 2015. They won the Puget Sound Business Journal #1 Best Place to Work 2014 award as well.
We think the shuffleboard tables might have something to do with it. They order one for the employee lounge every time they open a new office. A practice we heartily approve of.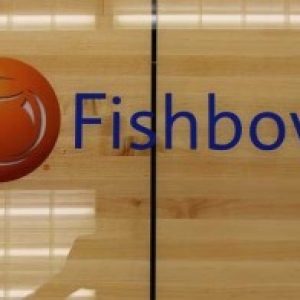 Life in Fishbowl? Not so bad . . .
Fishbowl Inventory
, a private company based out of Orem, Utah that deals in inventory control solutions, is the latest office to add shuffleboard tables to their workday mix. "We've been having ongoing shuffleboard tournaments," says Grant Kimball, VP of Partner Relations. "Everyone's just getting really on board with it." Read on for some of Grant's insights into shuffleboard tables at the office and how their particular company has adjusted to the newfound presence of a shuffleboard table.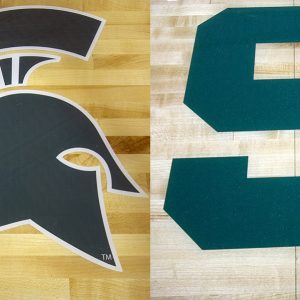 Michigan State University
It happens every year. March Madness brings out the fans and brings in the orders for logo tables. These two will be shipping soon.
Michigan State University was founded in East Lansing Michigan in 1855. For the past 160 years "State" has represented the best of what Michigan has to offer.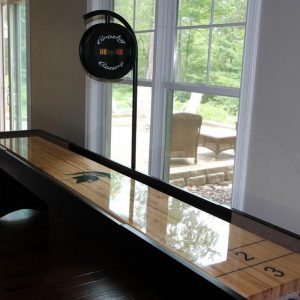 Sports Themed Man-Cave
While this game room design idea doesn't necessarily have anything to do with furnishings or floor plan, it is the perfect way to immortalize your favorite team, logo or even your family's name. McClure Tables makes customized shuffleboards with any graphics that you can dream up. If you're trying to create a themed room, a custom shuffleboard table can really be the ultimate piece that ties everything together.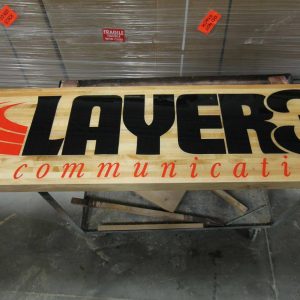 Here's one we made for Layer 3 Communications . . .
…out of Norcross, GA.  Board complete and ready for the cabinet. While they were fixing someone's network we worked on their table.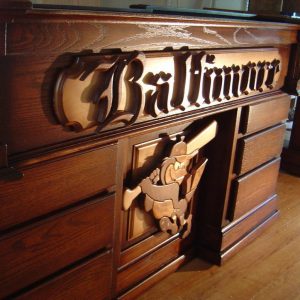 Talkin' bout Team Love
This one of a kind shuffleboard is customized with the Baltimore Orioles logo!  Not what we're talking about when we say 'logo tables', strictly speaking, but it is a table with a logo . . . and quite beautiful.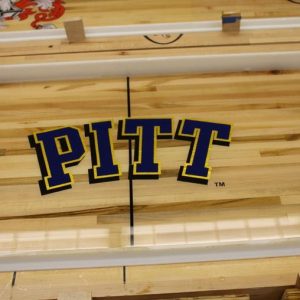 University of Pittsburgh
The importance of a good education cannot be ignored but all work and no play makes Jack a dull boy. It's probably not doing Jill any good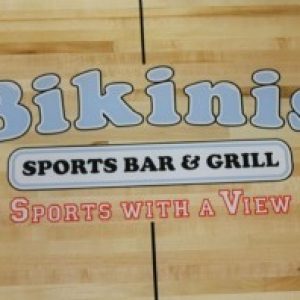 Bikini's Sports Bar & Grill . . .
. . . . is adding yet another location in the DFW area by opening up their first restaurant in Arlington. They also plan on starting on another location in Dallas shortly. McClure Tables is proud to feature our handcrafted shuffleboard tables in these fine establishments. If you are in or near DFW stop in and check out the great tasting food at Bikinis; and don't forget to play a game or two on their McClure shuffleboard table.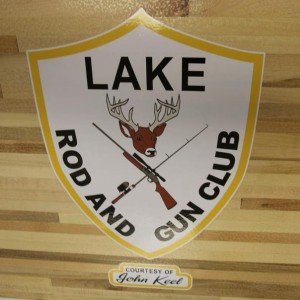 The Lake Rod and Gun Club
Any design in no time. All we need is your camera ready art to get started.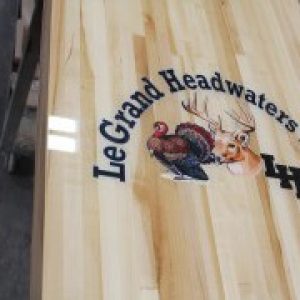 LeGrand Headwaters Hunting Lodge
Complete 3, 4 and 5-day hunting packages. And when night falls, an excellent shuffleboard table.
Here Are Even More Logos!
 Audit, tax and shuffleboards
RSM is going to be taking team building and stress relieving to the next level.