Man Cave Essentials: Arcade At Home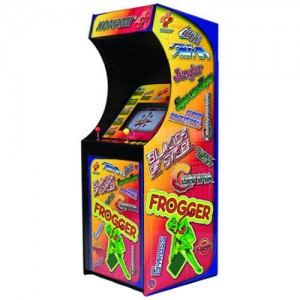 If you love games like we do, sooner or later you're going to realize that there's one very important thing missing from your life… an arcade at home. Whether you're into retro-style penny arcades or more modern gaming centers, there's plenty of accessories to fill out any style of man cave. Hone your skills by practicing on shuffleboard tables by yourself, or challenge your buddy to an indoor free throw match. However you want to play, now you'll be able to.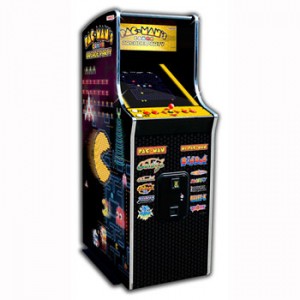 Video Arcade Game
What is an arcade at home without a classic video game console? These days, you can purchase replicas of classic games such as Pac Man or restored versions of games such as Donkey Kong. If you have the time, patience, and interest, you can also create your own arcade game. Whether you're into tinkering and then playing or just getting your game on, an arcade game is the perfect way to kill a few hours.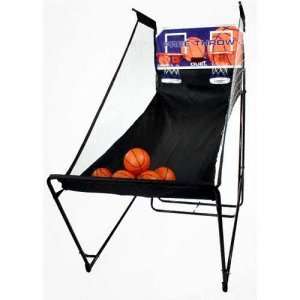 Arcade-Style Free Throw Basketball Game
Your arcade at home is all about you and the games you love to play. From dart boards to shuffleboard tables, all the best vintage games are represented in your man cave's arcade. However, if you like modern games too, an arcade-style indoor free throw basketball game is an awesome addition to your room. Is your shot not what is used to be? Get some practice in now!
Tournament II Shuffleboard
No arcade at home is complete without shuffleboard , and no one makes better shuffleboard tables than McClure Tables. The 22″ Tournament II Shuffleboard Table is perfect for home competitions. Don't forget to include the optional score unit, whether wood or electronic, which will make showing off your winning score that much easier.

Dart Board
You just can't have a proper home arcade without the ability to play darts. After all, nothing says "cool" like a classic dartboard hanging from your wall. An essential party game for teams or individuals, whoever wins at darts gets to throw first when the inevitable game of shuffleboard begins.

Pinball Machine
Although shuffleboard tables make excellent centerpieces for home arcades, something is definitely missing from your at home arcade if you don't have a pinball machine. Stand this one up next to your video game console for that nostalgic penny arcade vibe. Pinball machines come in so many different styles and themes, you'll have no problem choosing the perfect one for your arcade at home.
Dedicated to all your favorite hobbies and manly pursuits, a man cave is your best place to sit back, relax, have a beer, and play a game or two. Everyone has different interests, and your man cave is a proud testament to your favorites. With shuffleboard tables, pinball machines, and video games of your own, an arcade at home cultivates the perfect sense of gaming and fun.