Manufactured vs. Handcrafted Shuffleboard Comparison
Shuffleboard Table Comparison · Manufactured & Imported
Amazon · Playcraft · Berner · Plank & Hyde
The game of shuffleboard is growing in popularity and as a result, more companies entering the Shuffleboard Table market. You can now find models that are cheaper or are just knock-off versions of competing models on shopping sites like Amazon.com; we've listed a few of these brands above as well. Tables in this category are built with cheaper and softer woods. They are also, many times, manufactured overseas and then shipped to the United States. This allows for a table to be sold at a much cheaper price, but as the old adage goes, "You get what you pay for."
Unlike these manufactured shuffleboards, At McClure Tables, we don't use a cost-cutting pricing model. That's because we're a small craft shop. We build and sell direct-to-consumer with no middlemen or distributors. We only use the best materials in every price range. Whether you buy a table at our entry level price of $3,295 or spend up to $28,000, the cabinet, legs, and playboard are all still made from locally harvested Hard Maple.
For comparison purposes, we'll look compare features of an entry-level model. We'll also give you a much more detailed side-by-side comparison of a knock-off table and our original version.
MODEL-TO-MODEL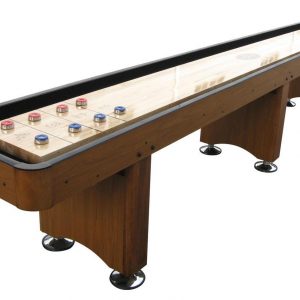 Woodbridge by Playcraft
Sizes: 9, 12 14, and 16-foot 
Price Range: $895-$1,695
Playboard: The Woodbridge has a 15″ wide playboard 1.75″ thick made of China Birchwood.
Playboard Finish: 10 layers of polyurethane finish with no warranty.
Cabinet Construction: Particle Board with PVC simulated wood grain plastic shelf paper. The only solid wood used on the entire table is the top trim at the horse collar.
Customizations: None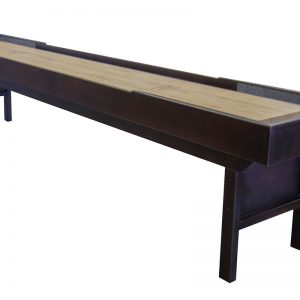 Sizes: 9, 12, 14 and 16-foot 
Price Range: $1995-$32,570
Playboard:  Hard Maple  18″ wide playboard which is a full 2″ thick (no thick plastic poured epoxy top) and made of North American Hard Maple
Playboard Finish: Lifetime Warranty Traditional Piano Polyester Finish (10 times harder than polymer poured resins)
Cabinet Construction:  All McClure Tables cabinets, legs, and component parts are made from Solid wood no veneer or micro laminated cabinets. 
Customizations: Lights, Scoreboards, Score Beads, Cabinets, Wood Type & Finish, and add a logo to any model
COMPARING KNOCK-OFFS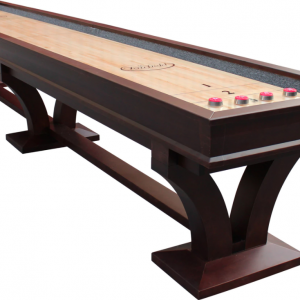 Playcraft Columbia River
Oddly similar, aren't they?
Trust us, when you look at the details there is a world of difference.
PLAYCRAFT
What they say: Solid 3" thick 20" wide Canada Maple butcher block with pour polymer top
The truth: The plastic polymer top is 1/4″ thick, so their actual playboard is 2.75″ thick, not 3″. The Canadian Maple* wood is first shipped overseas for manufacturing then shipped back to you; that kind of stress on the wood can warp or crack your playboard.
*Canadian Maple does not mean hard maple. China import duties are too high on hard maple and the RF presses they have in China are not powerful enough to work with hard maple. Like Champion and other budget shuffleboard companies, they use the word "Canadian Maple" because they assume the consumer will imply that they are using hard maple.
MCCLURE
What we say: Hard Maple 20″ wide playboard which is a full 3″ thick (no thick plastic poured epoxy top) and made of North American Hard Maple.
The truth: Our playboards are made from 100% North American Hard Maple that is sourced from neighboring counties to our woodshop in Michigan. Our playboards are a full 3″ thick and we don't use that cheap plastic polymer.
PLAYCRAFT
What they say: Pour polymer top
The truth: This is a thick plastic epoxy that is poured over the top of your playboard which means you're essentially playing on plastic. The polymer wears down and can damage easily, and it tends to warp boards. Virtually every shuffleboard manufacturer that uses the poured epoxy doesn't even bother with a premium hardwood playboard because the end-game is being played on plastic, not the actual wood.
MCCLURE
What we say: Lifetime Warranty Traditional Piano Polyester Finish (10 times harder than polymer poured resins)
The truth: Years ago we searched for a better way to finish playboards. We now source a high-quality piano polyester finish. This is the same material that is used on fine musical instruments to maintain them for years. It's thinner and wears much better than the plastic polymer. We are so confident of the quality of this finish that we put a lifetime warranty on it, even for commercial use.
PLAYCRAFT
What they say: Select hardwood construction
The truth: The cabinets on this type of shuffleboard are not made with the same hardwood used at a local craft shop. They use particle boards and softwoods like China birch or Rubberwood because it's easy to sand and machine. At McClure Tables, the hand sanding on each of our hard maple cabinets alone takes up to 4 hours. With softer factory and imported woods, the sanding time can be cut in half.  This is one way they are able to produce a lower-cost option, by cutting corners on the cabinet construction. Again, you still run into the issue of shipping overseas and the stress on the wood.
"One thing that never ceases to amaze me is how we go halfway across the world to get our labor resources for 10 cents on the dollar then we also use the cheapest materials we can find to produce stuff that looks like something that it's not." -Todd McClure (founder)
MCCLURE
What we say: All McClure Tables cabinets, legs, and component parts are handmade from the same hard maple wood as the playboards.
The truth: We don't cut corners when it comes to the cabinet. We use the same North American hard maple wood that makes up your playboard, and all of our designs are hand-crafted in our woodshop.
If your not looking for the original and do not want the premium hard maple or American Cherry Cabinet then we make the Veneto in Tulipwood priced at competitive prices with this import model
PLAYCRAFT
What they say: 12, 14, and 16 foot
The truth: Because these tables are mass-produced, your choices are limited.
MCCLURE
What we say: 14, 16, 18, 20, and 22 foot
The truth: We handcraft every one of our tables so we have the freedom to create different sizes when our customers want them.
PLAYCRAFT
What they say: Espresso or Chestnut Wood Color
The truth: That's about it. You can choose 2 wood stain colors. They do offer some add-ons like sweeps and pucks.
MCCLURE
What we say: Lights, Scoreboards, Score Beads, Cabinets, Wood Type & Finish, and add a logo to any model
The truth: We handcraft every one of our tables and are able to customize every aspect of them. You can choose from many different colors and add-on selections. You can even send us a logo or family crest, and we'll get it on your playboard.
PLAYCRAFT 12′ COLUMBIA RIVER
Retail Price: $6,189*
*This is a marketing trick to convince the customer that they are getting a great deal. You'll almost always find this table sold for less than $4,000 on places like Amazon and Wayfair. They want you to think that you're getting a $6,000 table for $4,000, but the truth is that this table is not a $6,000 table. It's a cheap knock-off of a $6,500 McClure Table.
MCCLURE TABLES VENETO
                       Wholesale made to order Price: $4,295-$5295                                             In Stock in 12-16 foot sizes Starting at $3695
We are selling you a table directly from the person who builds them. No sales gimmicks. No marketing tricks. No Middleman mark up. I think you will find our in stock sales prices competitive with the import mark up price of resell dealers. You get to support local American craftsmen and pay the same price but for a much higher quality product
Don't waste your time and money on an overseas knock-off when you can have the original handmade Veneto made from 100% hard maple. 
Not convinced? Let's share a story from a McClure Tables customer that started his Shuffleboard buying process with a knock-off brand.
We received a phone call one day from a customer named Kevin about purchasing climate adjusters for a shuffleboard table he had purchased on Amazon from a company in China. From his descriptions, he was having serious issues with a crooked second table playboard, to which we had to inform him that climate adjusters just won't fix, unfortunately. We suggested that he returned the table if he could and seek a replacement from the manufacturer. Thanks to the great customer service Amazon offers, they promptly covered the costs to return the table and Kevin received a replacement shuffleboard. To his surprise, he had further issues with this new replacement and Kevin made the decision to send us a follow-up email to inquire about purchasing a McClure shuffleboard table.
You probably don't remember me but we spoke on the phone not too long ago. Since we had nenver even seen a shuffleboard table we thought we'd start small (read: cheap) to make sre we like the sport. We found that we love it but we got stuck with an interior Chinese table. They sent us a replacement for free which we're now sending that one back too. Amazon is paying all costs to get it back to them for a full refund to us. The first table we were told to field destroy. I'm going to take the playing surface out to fashion a bar in the game room.
A short time after receiving his brand new McClure Patriot table, Kevin reached out with another email to express his love and satisfaction with the shuffleboard table he received. He no longer had any issues as we met his needs, it complimented the room he placed it in, and most importantly, it played just the way he wanted it to. An experience we believe every customer should experience when purchasing a shuffleboard table and what we strive for.
I cannot express enough how much we LOVE our Patriot table. I like the Mocha too, it seems to be a nice contrast to the room.

We are 100% satisfied with your service and table. Love how this table plays the way a Shuffleboard Table should. This is our first 'real' table experience. Love the slight (20lb paper thick) concave structure, no need for any adjustments.