McClure Tables + McClure Pickles: A Michigan Match Made In Heaven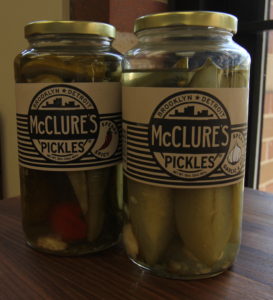 What are the chances that two unrelated family-owned businesses operating out of Michigan, with very unique purposes, would just happen to share a family name? Not as unlikely as you might think, given that right here in Michigan we have both McClure Tables and McClure's Pickles.
The famous pickle company is not affiliated with McClure Tables in any way beyond sharing a name, but we think it's an interesting coincidence that they are also a family-operated, Michigan-run business. We decided to pair each one of their tasty products with one of our shuffleboard tables to celebrate the McClure connection.
Pickles (Garlic Dill or Spicy) – Dakota Shuffleboard Table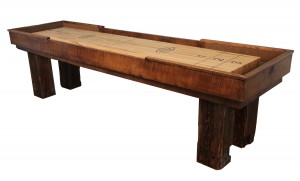 Something about grandparents and barn wood just seems to go together. Considering that McClure's Pickles uses a recipe created by their great-grandmother Lala, we found their pickles to be the perfect match for our Dakota shuffleboard table. The reclaimed barn wood of this table brings to mind the same idyllic Michigan past that the Garlic Dill Pickle recipe does. And we can easily imagine the barn at a local cucumber farm, perhaps the very same one that would later become a Dakota shuffleboard.
Potato Chips (Garlic Dill or Spicy Pickle) – Patriot Shuffleboard Table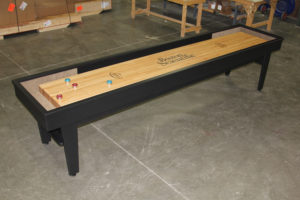 McClure's Pickles chip flavors are pretty unique, but potato chips are an all-American treat, so we suggest pairing them with the Patriot. All McClure shuffleboard tables are all-American and made in Michigan, but the Patriot is the latest one with the most fitting name. The Patriot is made out of hard Michigan maple, while the potato chips are the result of a partnership with Michigan chip company Better Made. Not only all-American, this match-up is also pure Michigan.
Bloody Mary Mix – Edmore Shuffleboard Table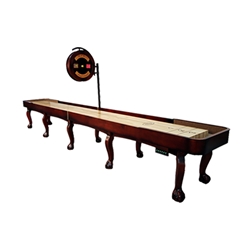 The Bloody Mary is a unique drink that is sometimes known as "the world's most complex cocktail." The elegant but gory namesake of the drink, Queen Mary I's Tudor reign is balanced with our stately Edmore shuffleboard tables. The graceful ball and claw legs on the Edmore are associated with Queen Anne style furniture, which actually appears a couple centuries after Queen Mary. Nevertheless, McClure's Pickles Bloody Mary Mix creates the most royal of drinks to match our most royal of shuffleboard tables.
Relish – Montana Shuffleboard Table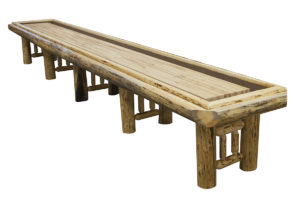 It's perfectly natural that a pickle company would dip into the relish well. McClure's Pickles Relish, in their own words, is like a "freshly chopped vinegary salad." If that sounds like the perfect accompaniment to a hot dog, that's because it is. Relish is often one of the more interesting condiments to be found at a summer BBQ, and always a welcome sight. With that in mind, we turn to Montana shuffleboards as the partner to McClure's Relish. The lodge style of the table calls to mind the great outdoors and here in Michigan, that means Up North: the perfect place to enjoy a hot dog, topped with relish, and a side of baked beans, on a beautiful summer evening at your family cabin.
Sharing a name can lead to some interesting connections you couldn't have imagined existed. Not only that, but the Michigan connection with McClure's Pickles is icing on the cake. Shuffleboard tables and pickles are an unusual pair indeed, but made all the more compelling for it.