McClure Tables Handcrafted Shuffleboards Sold Direct & On-Line Featured In National Hardwood Magazine
Handcrafted Shuffleboard Tables Sold Direct and On-Line made one at a time in Grand Rapids, Michigan. McClure Tables has been handcrafting shuffleboards for over ten years, and recently, they were featured in National Hardwood Magazine February 2020 print and online edition. Known worldwide for making the most elegant shuffleboard tables in the world, McClure Tables has sold tables all over the United States. In addition to they have tables located throughout the world, including Israel, England, Amsterdam, Russia, Australia, Japan, France, Hawaii, Taiwan, and New Zealand. Most of McClure Shuffleboards tables are in private homes, but you may also find in hotels, restaurants, or your company break room.
Recently featured in National Hardwood Magazine, read online here. Todd McClure, who comes from the retail side of the business of home Gameroom products, founded McClure Tables in 1991, in 2009 he began to focus exclusively on Shuffleboard tables. Having experience in the retail side buying from manufactures as well as working at one time as a manufactures representative, he found that many game table manufacturers lose their focus trying to be a one-stop-shop. They think a foosball table, pool table, shuffleboard, or Poker table are all similar products. When at the heart of the shuffleboard table is the playing surface and the requirements to make butcher block that is 3″ thick and 12 to 22 foot in length requires expertise in hardwood glue up and processing equipment. For this reason, the majority of manufacturers only make cabinets and purchase the playing boards from butcher block experts. Not wanting to leave any of the processes to outside contract manufacturing and the want to control in house McClure makes everything in their factory.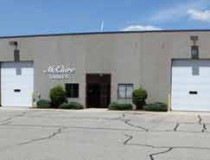 There are over 30 different designs and styles of cabinets all custom built to order. McClure Tables even makes Authentic Rock-Ola Shuffleboard tables in the art deco style famous on the original Rock-Ola Shuffleboard Tables made in 1948 & 1949. It is not unusual to use reclaimed beams or timber logs to craft the Shuffleboard cabinetry, and many customers personalize with their company logo or favorite sports team. The company is housed in a 24,000 square foot facility part of the McClure owned 38,000 square foot building.
In the past, shuffleboard tables were phased out of the arcade bar and restaurant scene for space reasons, but now the game is seeing a massive resurgence in home theater rooms and company break rooms. Owner Todd McClure confessed that while the five employees at McClure Tables like to play, "We're more woodworkers than shuffleboard enthusiasts. We are purist, one of the few companies who make boards the old fashioned way." The thick hardwood playing boards they make use locally harvested hard Michigan maple wood and use a durable hard polyester finish are warrantied for a lifetime at home or five years for commercial applications.
Custom handcrafted, pride in woodworking, choice in sizes, styles, and woods, aggressive pricing, and creative customers who can buy directly from the builder-These factors set McClure Tables apart in the shuffleboard realm.