McClure Tables New Line of Shuffleboard Tables and Web Site
McClure Tables is known for building hand crafted shuffleboard tables one at a time. Now would like to announce our latest web site McCluretables.net. Where you will find the same hand crafted quality but in a store front where items are already made in stock and ready to ship. We just launched McCluretables.net to offer three new models of Shuffleboard tables that we make in production run fashion. We engineered these tables to the same high quality standards as you would find any of our handcrafted shuffleboard tables made one at a time.  We started with locally harvested hard maple throughout the construction of each of the three models.
We would like to introduce you to our latest line of Shuffleboard Tables starting first with:
The Liberty Shuffleboard Table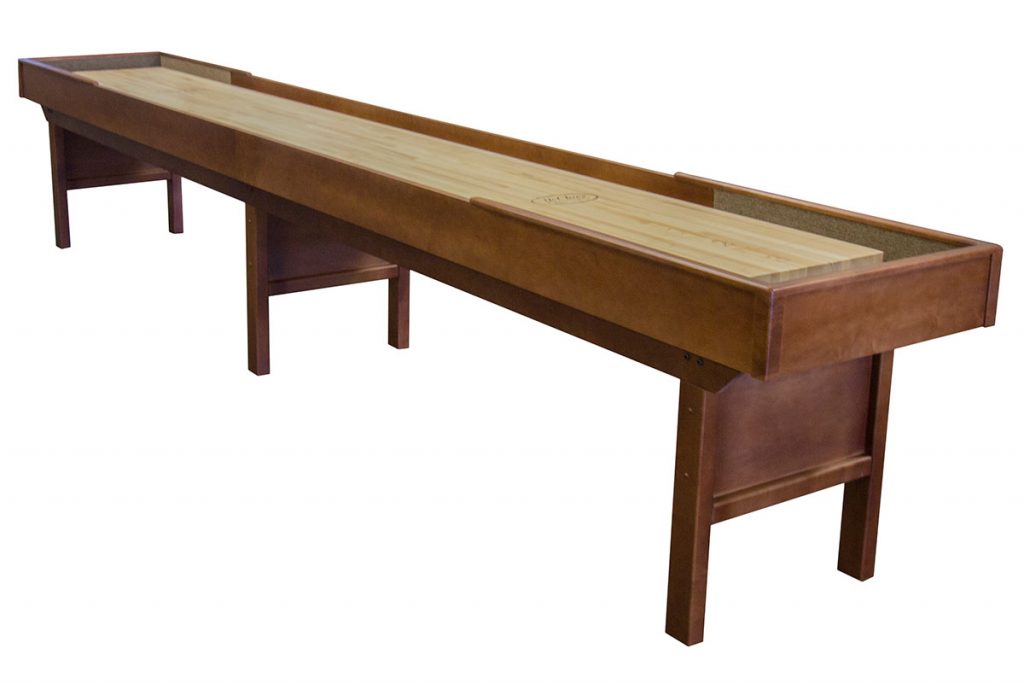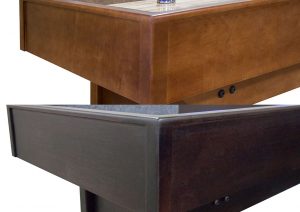 The Liberty Shuffleboard Table features solid hard maple legs, cabinet and play board. McClure Tables uses the finest locally harvested hard maple to make the play surface in house. We make the play board for the Liberty 2″ thick and 18′ wide to give you still a full width feel and play yet a cabinet that overall width is still less than 25″. Most tables in the starting price point of the Liberty model shuffleboard table only offer a 16″ wide play surface. Experience the full action and fun of an 18″ wide board and choose from black or Chestnut color finish. We stock tables in 12 foot shuffleboard table length as well as 14 foot length shuffleboards. The liberty shuffleboard table is available in all finish options and sizes at McClure Tables.
Quick Ship in Mocha or Chesnut
The Michigander Shuffleboard Table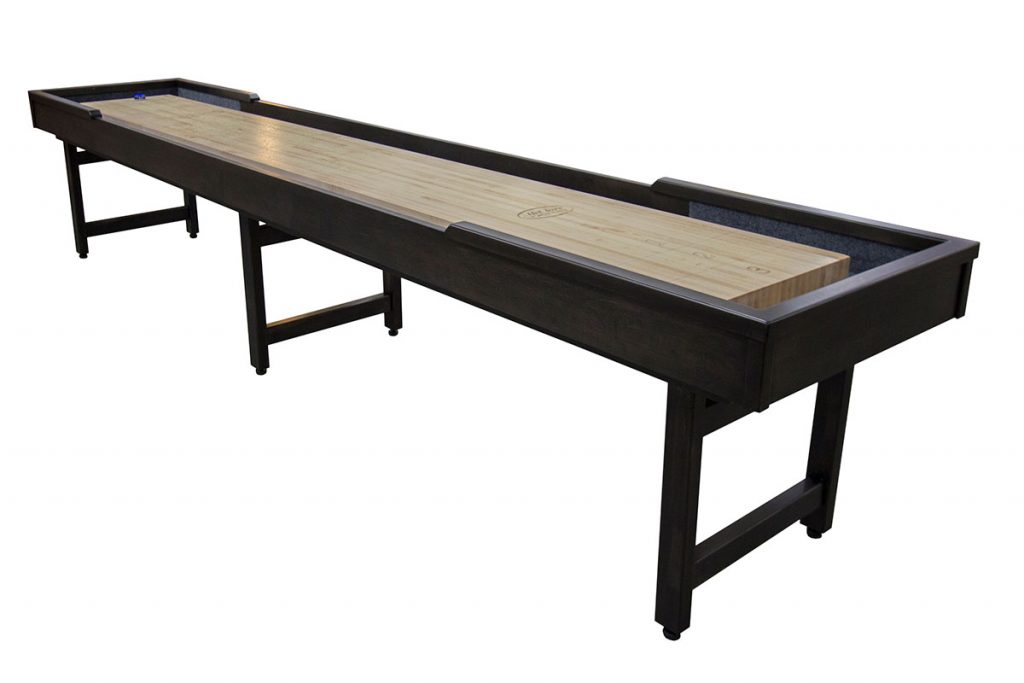 The Michigander model is also made with solid hard maple legs and cabinet with our signature traditional finish play board made with the finest Michigan Hard Maple wood. We process our locally harvested hard maple in house to prepare for glue up and assembly of the complete butcher block hard maple play surface in our state of the art 18 foot Radio Frequency Press. We not only have one of the largest presses in the industry it also boast 45 KW generator which allows us to use hard maple and not compromise quality choosing the lesser stability of soft maple to save money on material and compensate for lower generator press capacity.  We only use the finest Hard Michigan Maple for all our play-boards. The Michigander has a full 20″ wide surface 3″ thick. Each table comes complete with climate adjusters installed and board packed in a crate ready to play. Some assembly is required for the cabinet but for the play board simply lifts out of the crate and into the cabinet cradle and you would be ready to play. The legs and cabinet are all done in hard maple and we stock this table in a 14 foot shuffleboard table lengths and 16 foot size shuffleboards in hand rubbed black finish or Heirloom. We have these in stock for immediate shipment at
The Texan Shuffleboard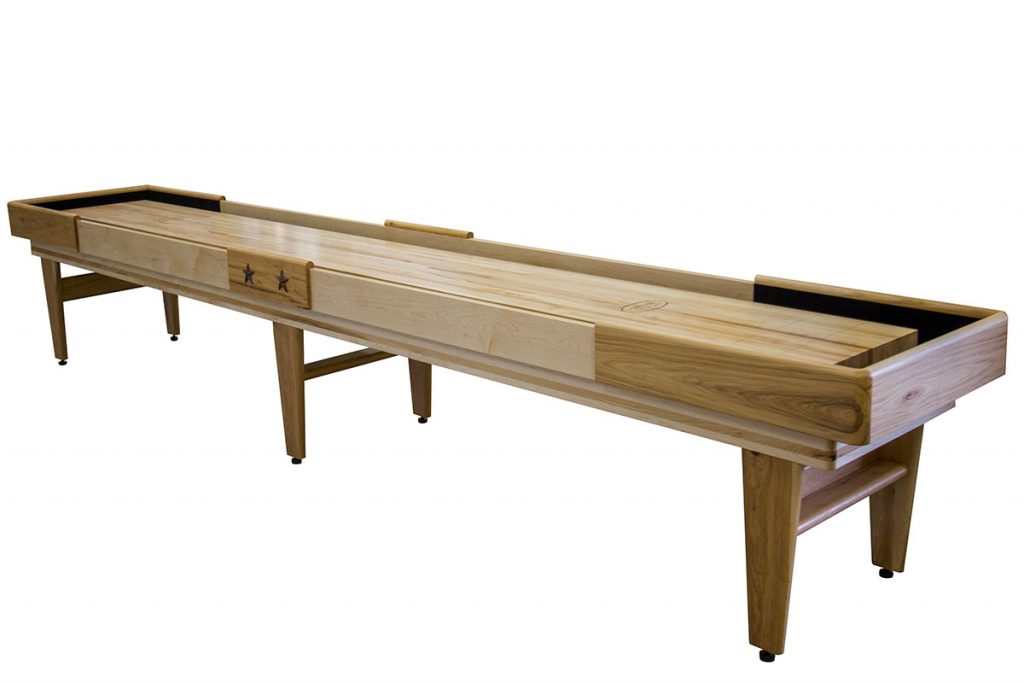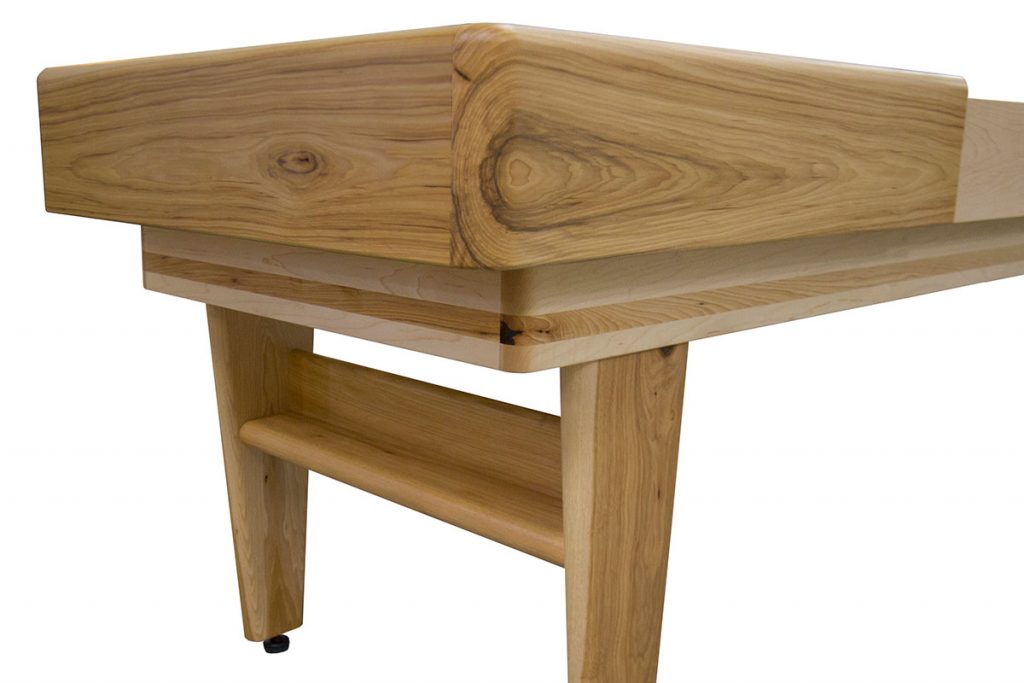 Last but not least our Texan shuffleboard table we made featuring a solid Hickory Horse collar, Legs and trim on the sub frame. The Texan is made with Michigan hard maple and Hickory wood throughout. We have metal lone star emblems over the solid hard hickory cover over the two cabinet half's. The Texan shuffleboard table was designed to give the traditional look and feel of the old Rock Ola tables with less of the Retro styling. You get deep massive Horse collars made with beautiful hand selected Hickory giving both the feel and the look for a very traditional shuffleboard game. We have a 3″ 20″ wide board and with our exclusive traditional lifetime warranty finish you get both the old original sound of a weight sliding on hard maple and the flexibility of adjusting the board to your own personal play preference.
If you are looking for a new Shuffleboard table and don't want to break the bank, look no further than McCluretables.net for a complete selection of shuffleboard tables in stock for quick shipment.
We also have a collection of cutting boards, chopping blocks and some kitchen Island carts in inventory for quick shipment. Most items are 20 to 30% less than having a custom made piece one at a time. Save now look no further than McCluretables.net
Save
Save
Save