McClure Tables Presents The Brand New Patriot Table
McClure Tables is proud to roll out our brand new line of Patriot shuffleboard tables. Just like all of our products, these tables are handcrafted right here in our Grand Rapids workshop and made from Michigan harvested hard maple wood. Our all American tables are crafted with the same hard work and dedication that made this great country, and we're proud to use our expertise to bring joy to bar rooms and gaming dens across the country.
Along with the quality and care you've come to expect from McClure's handcrafted shuffleboard tables, the Patriot is available in a Chestnut, Mocha, or Mahogany, or whatever custom finish best compliments your decor. We're here to do more than just sell a product; our highly experienced craftsmen are dedicated to making you a game room treasure that you'll be able to pass on to future generations, so all of our tables come with a lifetime warranty.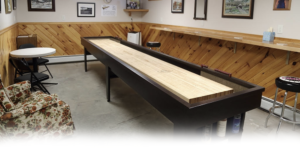 Our new Patriot Shuffleboard Tables are made with the customer in mind, and are available at a more affordable price than other tables of similar size. At it's most compact size, a 12 foot Patriot table will save you around $1000 more than other models. The Patriot is also available in 14 and 16 foot models, and each table comes with its own set of eight pucks and a can of shuffleboard wax powder absolutely free! Whether you're putting together your game room on a budget, or you're looking to get a few tables ready for a tournament, the Patriot table is a great place to start. Customize your own board with electronic or traditional scoring units to give your game room that classic feel to it, or let us place your own personal emblem on the board with our polymer poured epoxy finish.
Check out the Patriot's product page to find our latest shuffleboard table that would look perfect in your home. All of McClure's tables are made right here in America with the skill and dedication of years of experienced woodworking, and our new Patriot shuffleboard tables are no exception.