Olhausen Pavilion Shuffleboard Professional Review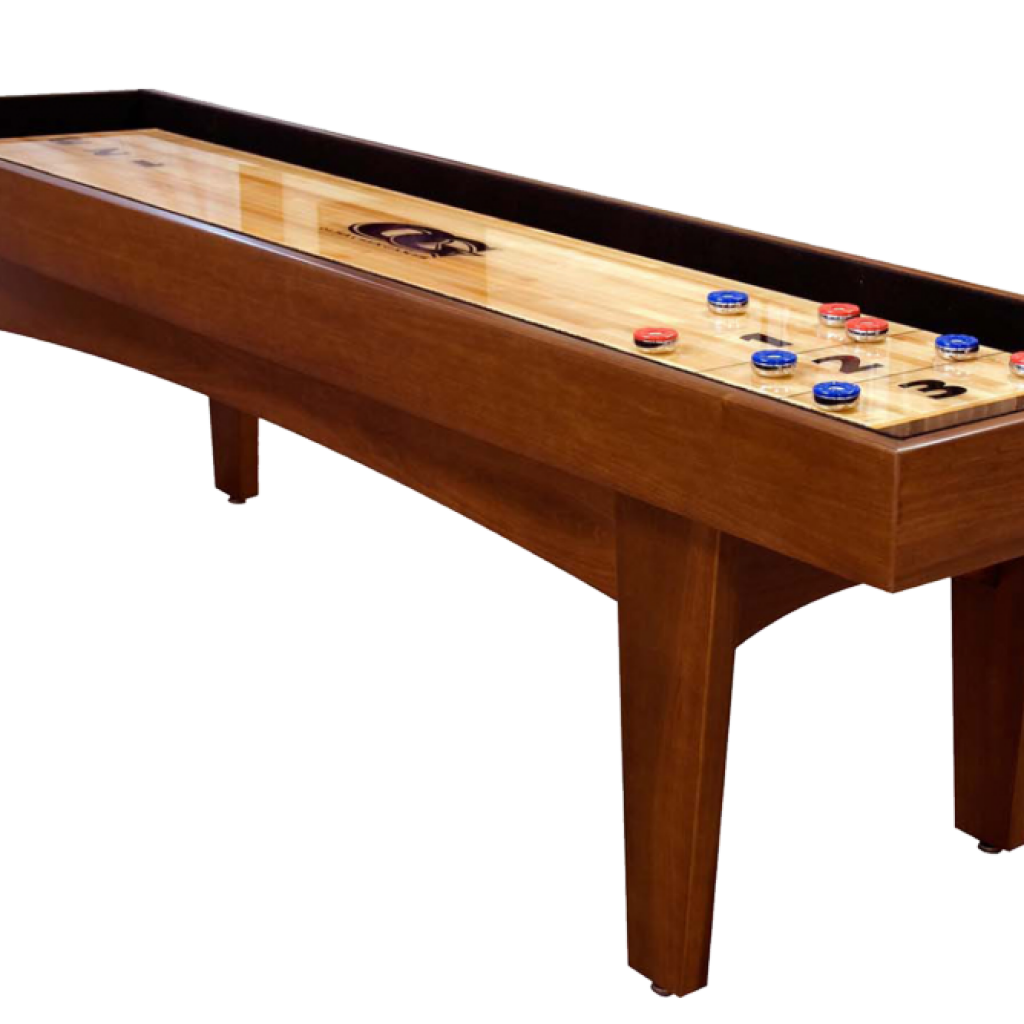 FACT CHECK #1: The Playing Surface & "Limited Guarantee"
This is our first major area of concern with the Olhausen Pavilion. In fact, this is our concern with many similar shuffleboard manufacturers because almost all of them do the same thing. The standard playboard thickness on this model is only 1 1/2″ thick, and 1/4 of that is actually a poured-over plastic polymer (you can upgrade your thickness, but no matter what, you're still getting the polymer). This is a thick plastic epoxy that is poured over the top of your playboard which means you're essentially playing on plastic. The polymer wears down and can damage easily, and it tends to warp boards (hence the "limited warranty"). Virtually every shuffleboard manufacturer that uses the poured epoxy doesn't even bother with a premium hardwood playboard because the end-game is being played on plastic, not the actual wood.
FACT CHECK #2: The Price & Economic Model
In order to purchase the Olhausen Pavilion, you're going to have to buy the table through a dealer of some sort. This means that you're paying for added shipping and the commission for the dealer. Furthermore, many shuffleboard manufacturers will build their playboards in the United States and then ship them overseas to be assembled. The overseas shipping does increase the price of the board (yet another hand in the cookie jar) and the physical shipping process puts stress on the wood.
Now, this particular model sells for around $3,600 – $4,000, which, on the surface, is a pretty affordable price for a shuffleboard. Considering that Olhausen has to get paid, and the dealer selling the table, and all the added costs of shipping… Is this really a $4,000 table?
This one is a little more challenging to detect, especially for those buyers that don't know a lot about wood types. The Olhausen Pavilion comes standard in Maple or Oak. Now, you might say to yourself "Well, Maple and Oak are a good woods, that's what nice furniture is made from." You'd only be partially right. Let's use Maple as an example. You see, there are different types of Maple wood. There is Maple and then there is Hard Maple. Hard Maple scores about 500 points higher on the Janka Scale than regular soft maple. It's a harder, longer lasting wood which is more difficult (read expensive) to manufacture and ship.  So, many shuffleboard manufacturers just don't use it. They say "maple" assuming that you won't know the difference.
On the Pavilion, you do have the option of upgrading to a harder wood though, so at least there's an option.
Why pay almost $4,000 for an overpriced, manufactured shuffleboard??? Instead, consider an original handcrafted Liberty Shuffleboard from McClure Tables for up to 

$2000 LESS!
The McClure Tables Tulipwood Liberty
Custom Order 9 foot models Starting at: $1995
Ready-to-Ship 12 foot Starting at: $1995
Our Liberty shuffleboard table is a great entry-level option that complements the decor of most homes and game rooms. Unlike most entry level tables that are often made with a 16′ wide playboard the liberty is a full 18″ wide. The result is a simple, yet high quality shuffleboard table that will provide your family and friends with countless hours of entertainment.
100% Handcrafted & Made In America
Playboard is Crafted from North American Hard Rock Maple
Crafted, Boxed and Shipped From Our Woodshop in Jenison, Michigan
Available in 12, 14, and 16-foot sizes
Ready to Ship Immediately
Or Custom Made to order
Not convinced? Let's share a story from a McClure Tables customer that started his Shuffleboard buying process with a knock-off brand.
We received a phone call one day from a customer named Kevin about purchasing climate adjusters for a shuffleboard table he had purchased on Amazon from a company in China. From his descriptions, he was having serious issues with a crooked second table playboard, to which we had to inform him that climate adjusters just won't fix, unfortunately. We suggested that he returned the table if he could and seek a replacement from the manufacturer. Thanks to the great customer service Amazon offers, they promptly covered the costs to return the table and Kevin received a replacement shuffleboard. To his surprise, he had further issues with this new replacement and Kevin made the decision to send us a follow-up email to inquire about purchasing a McClure shuffleboard table.
You probably don't remember me but we spoke on the phone not too long ago. Since we had nenver even seen a shuffleboard table we thought we'd start small (read: cheap) to make sre we like the sport. We found that we love it but we got stuck with an interior Chinese table. They sent us a replacement for free which we're now sending that one back too. Amazon is paying all costs to get it back to them for a full refund to us. The first table we were told to field destroy. I'm going to take the playing surface out to fashion a bar in the game room.
A short time after receiving his brand new McClure Patriot table, Kevin reached out with another email to express his love and satisfaction with the shuffleboard table he received. He no longer had any issues as we met his needs, it complimented the room he placed it in, and most importantly, it played just the way he wanted it to. An experience we believe every customer should experience when purchasing a shuffleboard table and what we strive for.
I cannot express enough how much we LOVE our Patriot table. I like the Mocha too, it seems to be a nice contrast to the room.

We are 100% satisfied with your service and table. Love how this table plays the way a Shuffleboard Table should. This is our first 'real' table experience. Love the slight (20lb paper thick) concave structure, no need for any adjustments.