Redecorate Your Game Room with Spring Sports in Mind
Now that warmer temperatures and more pleasant weather are finally upon us in most parts of the country, spring fever is affecting families at an epidemic level. As a result, homeowners are currently itching to bust open their windows and fill their houses with fresh spring air. However, overhauling your interior for the change of seasons involves much more than simply dusting out your den or game room and hoping the fresh air makes the place magically feel more aesthetically pleasing.
When the seasons change, so too must your home's interior decor, as the items you hang on your walls to make the space feel more comfortable and warm in the fall and winter will simply weigh the room down come spring.
In your game room this is easily accomplished as you generally don't have to worry about making the space feel too formal. Because of this, you can be more creative or playful with how you go about decorating this area and making sure it feels fresh and airy for the warmer weather.
One approach you can take is turning to the sports that are played during this time of year. With March Madness coming to a close so recently, sports fans are now turning their attention away from college basketball and toward professional baseball.
Consider taking this opportunity to make your game room an homage to your favorite clubhouse by purchasing jerseys and posters then giving the walls in this space a vibrant overhaul that reflects the team colors.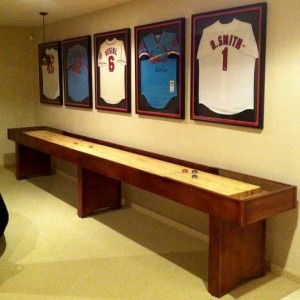 If you make your game room the ultimate center for enjoying baseball on the big screen, you can spend the rest of your time – whether during the seventh inning stretch or after the bases are cleared – playing shuffleboard on your McClure table.