Rock-Ola 16 Foot Shuffleboard in Solid Walnut & Maple Wood
We create all our shuffleboard tables here in Michigan. We took these pictures today of a custom 16 foot shuffleboard table made for a client with solid walnut legs, horse collar, and sub frame.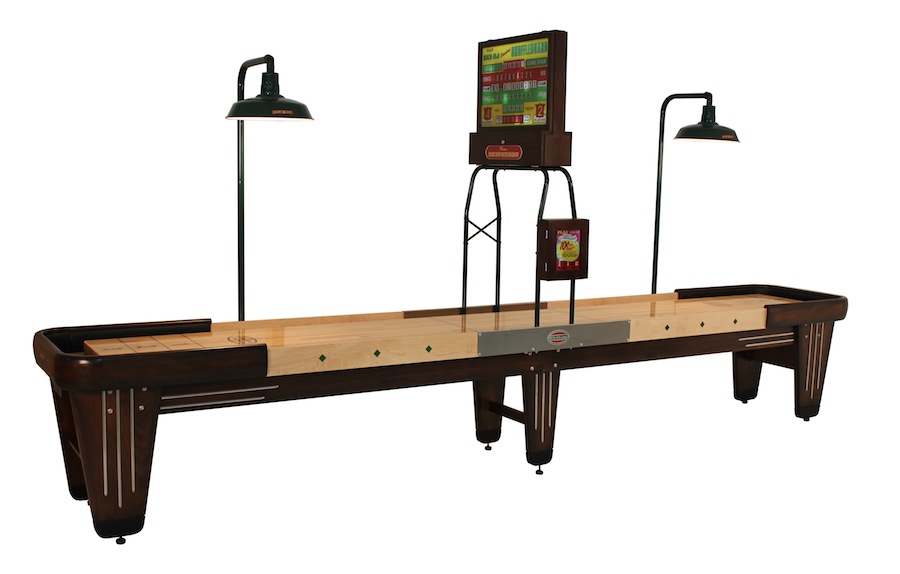 Rock-Ola 16 foot shuffleboard table made with solid walnut wood.
We even try to source as many component parts as we can made in the USA. Every detail on this score unit is as the original antique shuffleboards. The glass on the score unit is not plexiglass but real tempered glass that is printed in Michigan. The score unit poles are fabricated and powder coated in the original green made also in Michigan. We also offer a optional metal lamp shade and pole kit also made in the USA. If you have an original antique Rock-Ola we offer original replacement glass as well as other Rock-Ola shuffleboard replacement parts you can buy here.
With attention to detail even the decal on the score unit is reproduced as the originals were even the mis-spelled word wates. On the original Rock-Ola play surfaces we have restored many and have found all types of spellings for this, pucks, weights, and wates on the board play surface but all the score units we have seen they used the word wates.
Many times I hear people who talk about how the original antique Rock-Ola shuffleboards used a horse collar (the round curved end of the cabinet) that was made out of solid mahogany. We have seen dozens and restored several but have never seen one with mahogany horse collar. The only thing mahogany was the color stain or finish used. Today with our originals if you want mahogany wood we will make one for you custom out of any wood. We usually offer black American Walnut and Michigan hard maple wood, as we try to have a low environmental impact sourcing our hardwoods from local Michigan timber
We make a replica of the coin box and it has a glass face with LED lamps inside to illuminate the box. It doubles as a storage box for shuffleboard supplies. We have some other pictures here of the box open with our Adroit shuffleboard wax that we hand mix in here in Michigan. Shuffleboard wax is often called powder, sand, cheese, or salt but is made with a special material that helps the pucks slide down the board.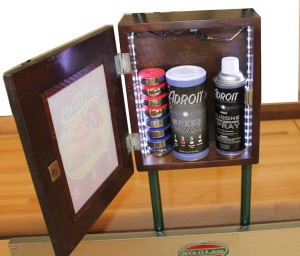 Here is a picture of the box open and it is large enough to store a set of pucks and two cans of silicone spray or wax. We do also offer in a fully functional coin operated unit for commercial use then the box would store money instead of shuffleboard supplies.
We also have a storage compartment in the bottom of our score unit that can store pucks or shuffleboard weights. see the image below of our score unit with the cabinet open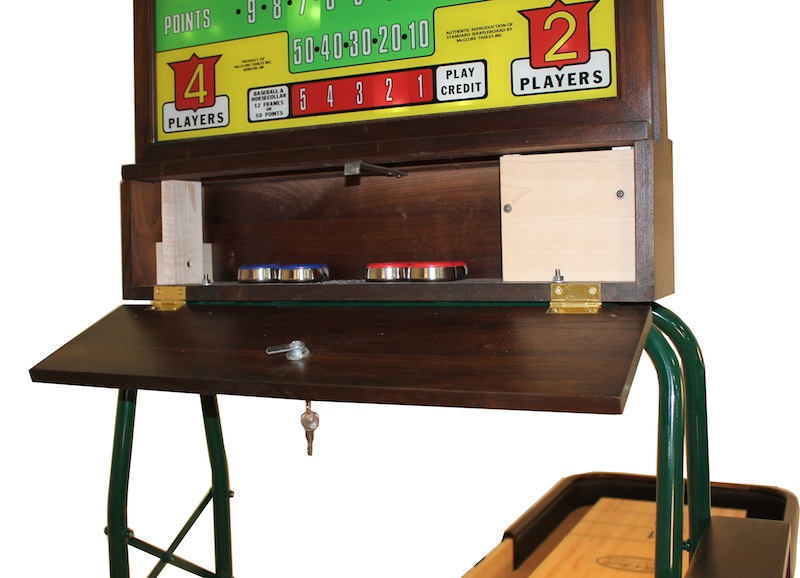 We are always updating our web site and every image of all the shuffleboard tables you see on our web site were not made just to photograph. They are all custom made for our customers and now are proudly in some customers home for family fun.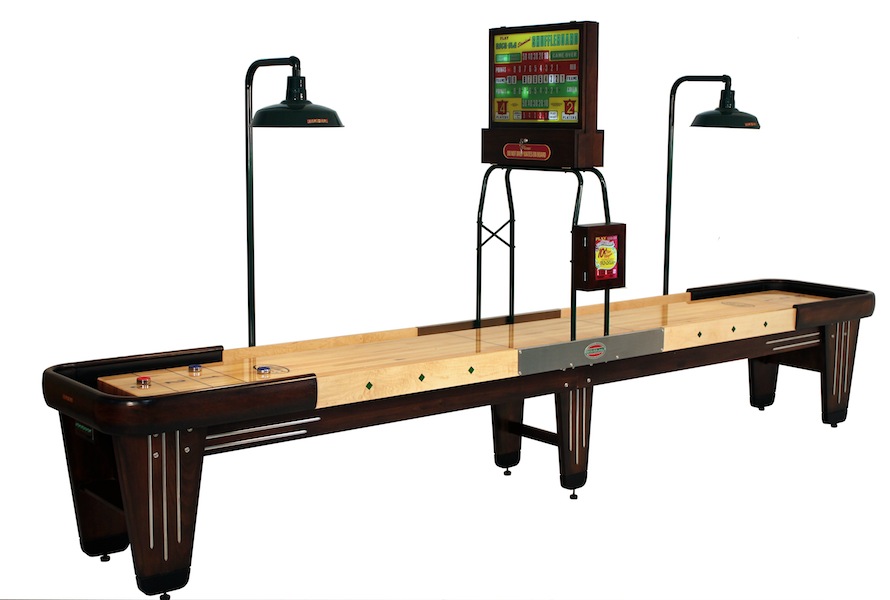 You can have your own custom shuffleboard table like this one handcrafted by McClure Tables at our Grand Rapids facility. Visit our site for more details or give Todd a call at 800-565-0977.