Rustic Gameroom Furniture Idea for your man cave
Man Cave Rustic Gameroom Furniture Ideas
Are you looking to get some rustic gameroom furniture ideas for your space? We are often surprised ourselves at the imagination, creativity and eclectic mixture of shuffleboard styles with different man cave, basement or game-rooms.  Some of the typical models of shuffleboard tables we consider rustic we will list here, but first take a look at the gallery below for a variety of ideas from our customers.
Craftsmen Series
We have so many different styles and designs of shuffleboards that we try to group into categories you will find models in our craftsman series Shuffleboard Tables like the Dakota shuffleboard table that we make out of reclaimed hardwoods or the Ponderosa Model made with a lodge look out of real hand hewn pine logs.
Ponderosa Pine Shuffleboard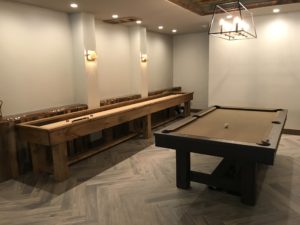 We made the Ponderosa shuffleboard in Pine. Shown here is heirloom pine finish on pine. This was an 18 foot Ponderosa shuffleboard table installed in this man cave in colorado. With a matching Pool Table this table was the perfect fit to finish off the man cave with a handcrafted shuffleboard table. The Ponderosa Pine is antiqued for a special rustic effect with antique finish techniques.
Oak Ponderosa Shuffleboard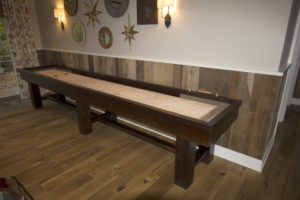 The Ponderosa in Oak is also a rustic furniture piece in the man cave or gameroom. We did this 14 foot Oak model in red oak with a Provincial Oak finish adding a dark red brown tone to the wood. The Ponderosa can be made out of white oak for a slight upcharge
Dakota Shuffleboard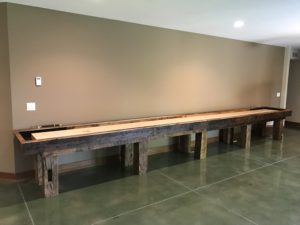 This 22 foot shuffleboard table is made with reclaimed hardwood. This wood often comes from old barns or warehouse floors or inside support walls. These are made with reclaimed hardwoods like hickory, oak, chestnut and hard maple. The hardwood has circle sawn marks and rough aged distress from years of use before we reclaim the hardwood to make into a beautiful shuffleboard cabinet,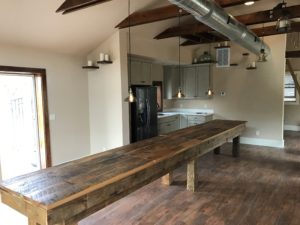 This Dakota shuffleboard table features a full dining top cover and was the final touch to this Man Cave becoming the center rustic game room furniture piece. This was delivered in Wisconsin area. This will be the center piece of furniture in this gameroom for years to come. Plenty of family gatherings will be both to enjoy a good meal or the fun and relaxation of the game of table
As every piece of furniture at McClure Tables is handmade you can customize your furniture idea to fit any rustic game room furniture theme or decor. We can use Walnut, Cherry, Hickory, Pine, Oak or any wood on most models. At McClure Tables we have customers so we can build so dream or imagine your own original rustic furniture idea we can make it happen.
These are just a few of the ideas we have for making a shuffleboard table the perfect rustic gameroom idea for your mancave.