Shuffleboard is a Game That Can be Enjoyed by All Skill Levels
Shuffleboard is a great game that does not require a great deal of practice or initial skill to play, but at the same time a game that can take years of practice to truly master. It is a game that can be enjoyed by players of all ages and skill levels because of its rapid learning curve, while still having the challenges and motivation for improving your skill to a high level.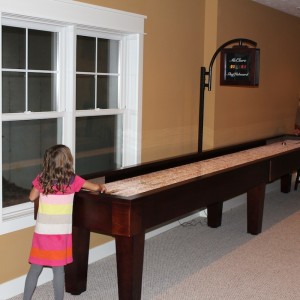 It is this blend of skill and strategy that keeps the game interesting for anyone who plays it. Much like the game of darts, the game itself is easy to execute but difficult to master. However, unlike darts, there is an element of offense and defense that becomes part of the game strategy. No matter how adept you are at placing your pucks in scoring position your opponent has the equal ability to drive your pucks from the scoring area. This back and forth generates a playing strategy that keeps the result of the game in doubt until the last puck is played.
If you do not have a home table, and do not plan on getting one, there are a number of public places that have tables on which you can play, and you can often find them in locations that support other various games of skill and entertainment. You may be most familiar with shuffleboard at your favorite neighborhood tavern, and while this is a popular destination, there are other options that may be more convenient and compatible with your lifestyle, such as, sports bars and restaurants.
You can also find shuffleboard tables in game rooms or billiard halls that have extensive gaming beyond pool. Tables are also very popular in bowling centers. These locations are particularly attractive to a wider age range because of their family friendly atmosphere as well as being a gathering place for people that share an enthusiasm for gaming and recreation.
All of these places can be a good source of both recreational play as well as tournament level play. Whichever location best suits your requirements you can be sure that you will find a level of competition that fits your skill level and attracts a group of people that enjoy the same activities that you do. There are several sources of information as well as competitive shuffleboard associations that you can find in your local area. So whatever your level of interest, you can be assured that you will find just the right circumstances in which to enjoy shuffleboard and improve your game.