Shuffleboard Supplies You Need to Keep Your Table in Top Condition
Keeping an adequate inventory of shuffleboard supplies you need on hand will go a long way in maintaining your shuffleboard table. Having the right collection of maintenance supplies is not difficult and in the long run it will save you time, money and effort.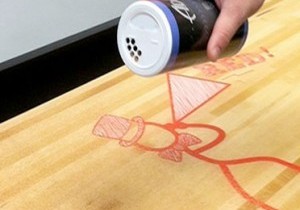 Basic supplies mostly consist of products that are designed to protect the playing surface. Failure to do so can prove costly especially if you need to hire a refinishing service to bring your table back up to standard. You will want to begin by gently cleaning the surface to remove old wax, dirt, and other debris that may have accumulated. You may want to consider setting up a schedule at regular intervals to insure that the buildup does not become too great. You will also want to inspect your table between cleanings to make sure that there is nothing on the surface that could cause damage or undue wear and tear.
There are a number of cleaning solutions recommended by the table manufacturers. You will want to consult your owner's manual to make sure you are using the proper cleaning products so as to not damage the finish. You should always test the cleaner in an area that is not obvious and that will not affect the play to be certain that it is compatible with the table finish. You should clean the entire table to keep the playing surface consistent. Once the surface is clean you should apply a protective wax, silicone spray, or some other recommended surface conditioner which provides a protective coating to the playing surface. Make sure you apply the correct amount and wipe off any excess material. Allow the protective coating to adequately dry before using the table.
Once your table has been properly cleaned, conditioned, and dry, you will want to use a manufacturer's recommended granulated wax as part of the shuffleboard supplies you need. This again will go a long way in getting top performance from your table. Shuffleboard wax comes in different grades that have varying performance characteristics. These characteristics have a lot to do with the speed variations that are determined by the chemical makeup and melting point of the wax. Choosing the proper wax is determined by personal preference and environmental factors and has a lot to do with an individual's ability to perform.
Whether for maintenance, or play, it is important to have on hand the necessary shuffleboard supplies you need on hand to get the most out of your table and provide the players with the best possible playing experience.