Shuffleboard Supplies
Thinking about buying a shuffleboard table but not sure what else you'll need to play? We recommend several supplies to keep your board clean and your gameplay smooth.
Silicone Spray: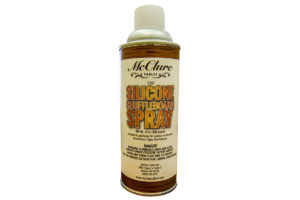 Silicone Spray is applied to shuffleboard to give your pucks even more speed on the play surface. Silicone should be applied to the play surface as evenly as possible. This is easiest to achieve when using a sweeping motion that you can see an example of here. After you've evenly coated the play surface, you should let the silicone spray sit for about 5 minutes. If it is your first time using a new shuffleboard, or the first spray after cleaning, you'll need to buff the silicone spray out with a soft towel. Otherwise, you can simply spray the table lightly and let the spray sit for a few minutes before beginning to play. McClure Tables makes its own Silicone Spray that is safe and rated for the high quality polyester play surface (no epoxy or polyurethane is ever used) that makes McClure Shuffleboards unique. You can check out McClure's Silicone Spray here.
Shuffleboard Wax: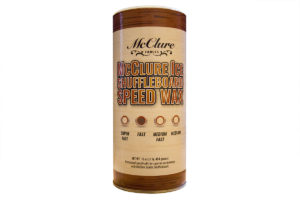 Shuffleboard Wax is not actually wax, but is either very small silicone beads or a cornmeal mixture. Just like Silicone Spray, the Shuffleboard Wax helps reduce friction on your play surface. Shuffleboard Wax comes in different speeds to accommodate different skill levels. Newer shuffleboard players tend to be a little more enthusiastic with their throws, so they need slower wax speeds. More advanced players that have a more precise throw and need faster waxes. McClure offers 4 different speeds of wax, with 1 being the fastest and 4 being the slowest. You can view all of McClure's Shuffleboard Wax options here.
Shuffleboard Sweeps: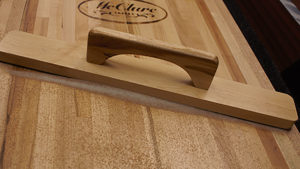 Shuffleboard Sweeps are used to remove Shuffleboard Wax when it's time for a new coat. You can simply run the sweep gently down the play surface to brush all of the wax into the gutter. You should be sure to vacuum the wax out of the gutter later to keep your shuffleboard in its best condition. McClure makes Shuffleboard Sweeps in two sizes that will nicely match McClure's shuffleboards. The sweeps feature carpet on the bottom so that they catch and clean up as much was as possible. You can view the 18 inch sweep here and the 21 inch sweep here.