Shuffleboard Table for your Gameroom. Same Fun!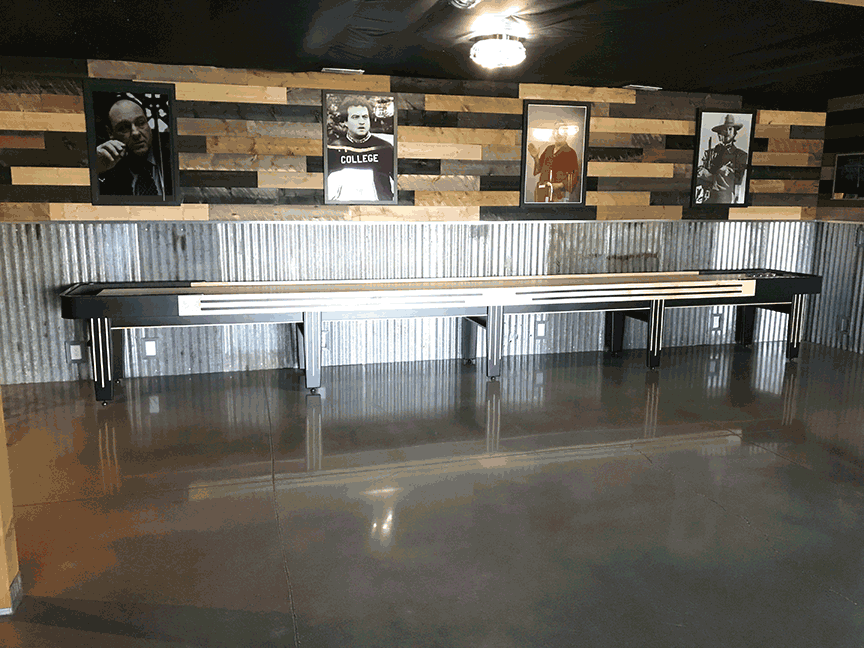 During these uncertain times of restrictions and new normal's, it is comforting to have the same fun with family and friends.
Shuffleboard is a game that originated in 15th century England when locals would slide a sizeable British coin down a long smooth table.
Not much has changed in 2020, today people slide round weighted objects called pucks down a long smooth wooden table. Shuffleboard is a game that you can have the same fun playing elbow to elbow or socially distant too.
We have board lengths ranging from 12 feet to 22 feet in length, and standing 6 feet apart is no problem.
Prepare your home for the next time you're locked in due to weather or other unforeseen circumstances by adding one of these great handcrafted shuffleboard tables to your game room.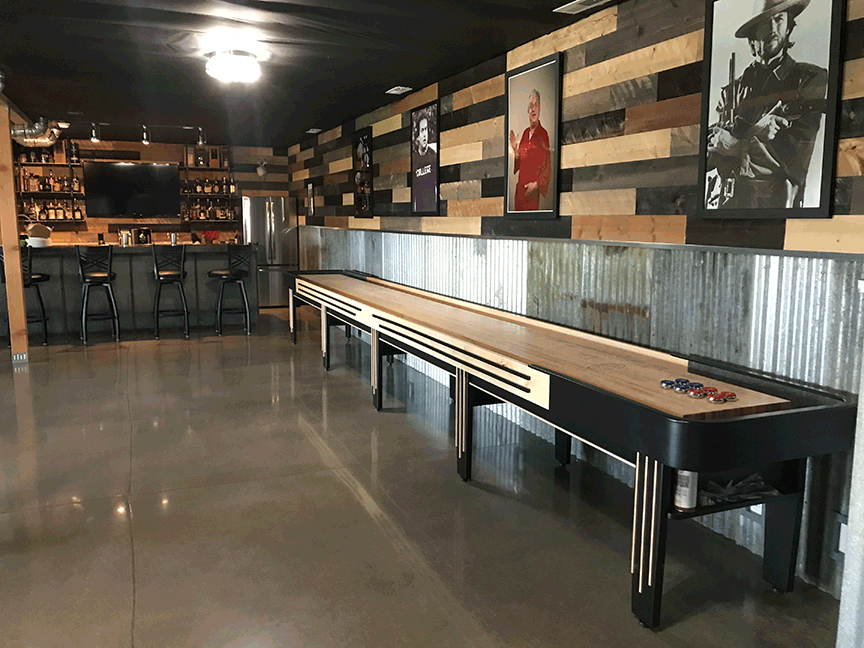 This Shuffleboard is in our vintage series and is an upgraded model of our classic Tournament II shuffleboard table that features trim made with two-tone wood combinations. Using the finest craftsmen and locally-harvested hardwoods starting from scratch, we create each shuffleboard table in our workshop.
The Tournament II with Trim was an idea we got from one of our customers. It is kind of a take-off on the classic original Rock-Ola Shuffleboard Tables. The customer called it the poor man's Rock-Ola Shuffleboard.
McClure Tables is the exclusive manufacture of original Rock-Ola Shuffleboard Tables.
The classic Jukebox manufacture made shuffleboard tables in two years, 1948 and 1949, and then ran into a patient dispute with American Shuffleboard Company over the use of climate adjusters.
The popularity of shuffleboards declined, and Rock-Ola stopped manufacturing tables in 1949.
They never did file a trademark on their classic design or the Rock-Ola shuffleboard table, and McClure Tables is the owner of that Trademark today.
Authentic Rock-ola
Many companies make a similar style to the Rock-Ola, but only McClure Tables makes original authentic Rock-Ola tables today even better than the originals.
Today we use premium hardwoods like Hard Rock Maple, Walnut, or American Cherry to make the Rock-Ola Shuffleboard cabinets.
We want to highlight the Rock-ola Walnut shuffleboard table. It's made with the same techniques as the classic Rock-Ola tables and with better materials.
Call McClure tables at 844-579-2922 to support a small company Handcrafted in Michigan Made in America Shuffleboard Tables.
Although there is a new normal, you can still have the same fun playing Shuffleboard in your new home.