The Best Shuffleboard Tables for a Small Home
Let's face it! Shuffleboard fans live in a wide variety of places, not just mansions or other types of large homes that are big enough to house the biggest shuffleboards. If you've been searching for a small home shuffleboard table, then you've come to the right place. No matter what size room you have to work with, McClure Tables has something that will do just the trick.
The first step to finding the right shuffleboard table for a small home is to measure the room that you'd like to feature your new gaming table in. Most folks love putting their table in a game room or basement, but if you love playing shuffleboard with a passion, the living room will probably also do. Size up your room and remember that shuffleboard tables can be pushed up against a wall on one side to save space.
9 Foot Shuffleboards Tables
For most small homes, a 9 foot shuffleboard table would fit perfectly even into the smallest of rooms. Check out these three different types of tables we make at McClure Tables with a 9 foot length.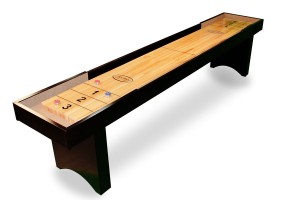 Competitor II
Made from 100% solid North American hard maple, the Competitor II 9 foot shuffleboard table is a solid addition to any game room. This simple, sleek design offers a no-frills, many-thrills approach to bringing a shuffleboard into your small home. Looking for the perfect piece for your place? This table is a classic.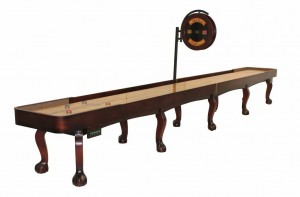 Edmore
Looking for a table that fits in the same space as the Competitor II, but want something that looks a little more elegant? Our 9 foot Edmore shuffleboard table has a dash of royal flavor with hand carved ball and claw legs. Even if your home's size isn't fit for a castle, these Queen Ann legs will make your shuffleboard experience seem more regal.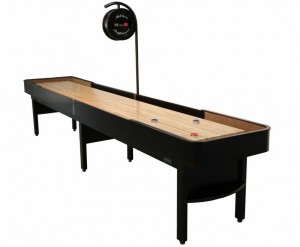 Tournament
At McClure Tables, we can customize your 9 foot shuffleboard and its cabinet to fit into the aesthetic that you've already created for your small home. Need something in cinnamon, chestnut, mocha or mahogany? We can give your new 9 foot Tournament shuffleboard table the look to match the rest of your home in a snap.
If you've ever wanted to bring a shuffleboard into your home, but thought it was too small, it's time to think again. At McClure Tables, our 9 foot shuffleboard tables are the perfect size for any type of room, no matter whether its a tiny game room or living room. Let us build the table that will make your home the most fun place to hang out and play.