A Guide To Shuffleboard Sizes And Your Home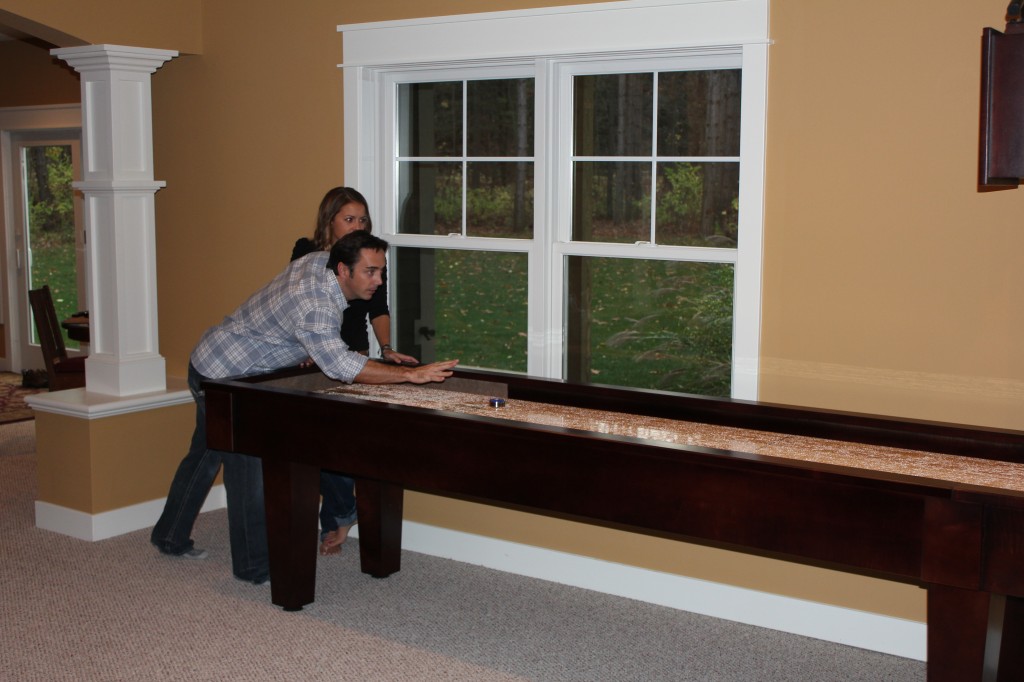 One of the most frequently asked questions I receive at McClure Tables is "How much room does a shuffleboard table require?" When it comes to shuffleboard size, tables run the gamut from 9 feet to 22 feet in length. No matter how big or small your home is, it's possible for us to create a shuffleboard table that can fit into your room. Generally, we create tables in 2 foot increments starting at the 12 foot size shuffleboard table, but we will create a custom size for your home.
So when it comes down to answering the question, "How much room does a shuffleboard table require," the simple answer is "How much room do you have?" By measuring and testing out the space for your new table, knowing what kind of gameplay you would like for you and your guests, the process of figuring out table is right for you can be extremely simple. Check out our guide below to figuring how much room you need for a shuffleboard and start thinking about your new table.
Considerations For Shuffleboard Table Size
When it comes to thinking about what size of shuffleboard table you want to purchase, one factor to keep in mind is that you'll want two feet behind the table clear of any obstructions. This is ample room for a player to get behind and bend over for proper stance and shooting position. As for your room's side to side space, it's easier to manage as you can put a table right next to the wall. If you have an electronic score unit you may need to move the cabinet 3 to 4 inches away from the wall to allow for room to clear the score unit mounting pole between the cabinet and your wall. However, all play is done inside of the cabinet so you do not need any space on each side of the table beyond the inside edge of the cabinet.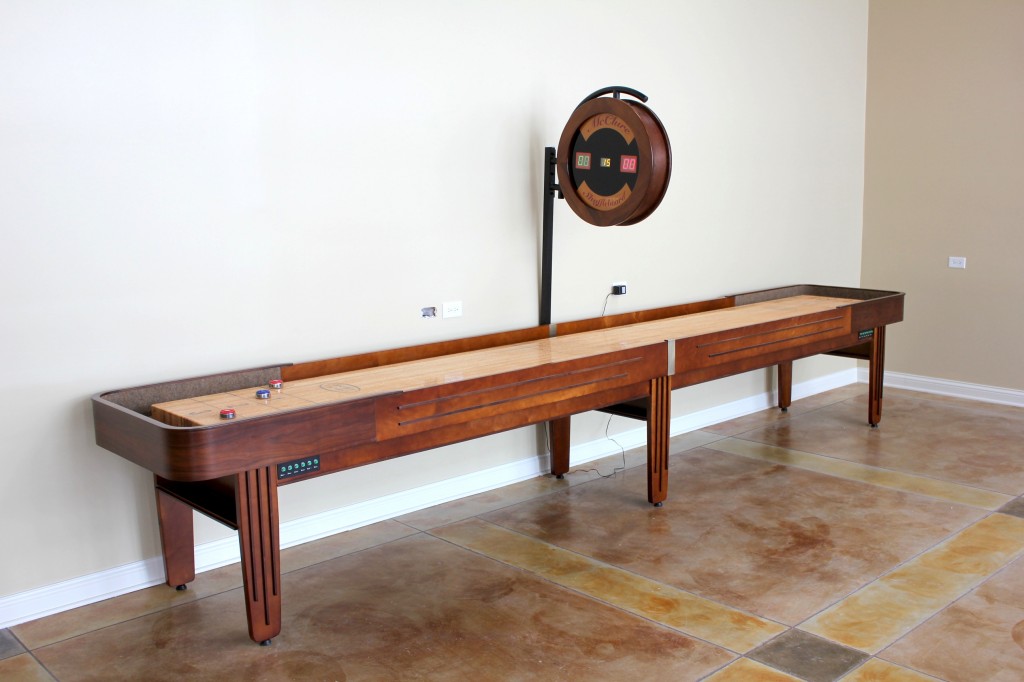 Room Access
We've seen it time and time again… Some doors are too small and some hallways are too narrow. In order to prepare your home for your new gaming investment, it's important to measure and do some test runs to make sure you have the proper space. Remember, these boards and pieces that make up your shuffleboard table don't bend and can be extremely heavy. Start by maneuvering a long board (a 2 inches x 10 inches if possible), throughout your home's hallways to make sure you have clean lines into the room that will house your table.
Once you have ensured that you can get your table into your room, it's also important to ensure that your room is an accurate fit. It's best to take a board that can be 2-3 inches thick and 18 to 20 inches wide, and depending on your table length, anywhere from 10 foot 8 inches up to 20 foot 8 inches long into the room. While measuring is accurate, sometimes it pays to see a piece of wood in your room that will actually be the size of your completed shuffleboard table.
As for the cabinets that house the board, any table over 12 feet are made in two pieces so they are much easier to get into the room. With some of the more common sizes, 14 foot and 16 foot shuffleboard tables, you are talking the equivalence of a 7 to 8 foot sofa or couch into the room. Again because every shuffleboard table made in our woodshop is hand crafted and custom made, we can and have made even the 12 foot cabinets in two pieces. We have even done smaller cabinets like this, 10 foot and 11 foot long tables, when necessary.
If you're at a complete loss how to get a table into your home, we've had customers use cranes and lifts to bring them in through upstairs windows. Additionally, we have put tables through basement windows See some videos on this post here. Whether through conventional or unconventional methods, we can put almost any shuffleboard size in your home.
Best Shuffleboard Table Length
Most people want to get as large of a table as will fit in their room and the best size, closest to the full length regulation play, is a 16 foot shuffleboard table. The difference from a 16 to 22 foot is not that noticeable in play. While you can still have fun on 12 and 14 feet shuffleboard tables, when you get down to a 9 foot table, the playing surface is a little on the short side and not near as challenging.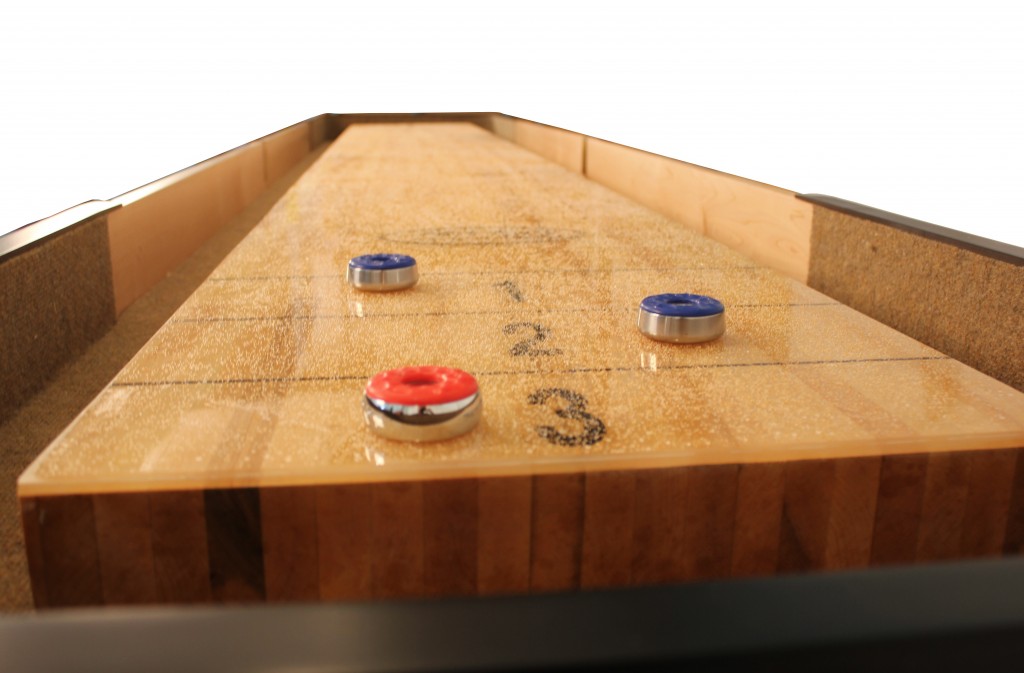 Shuffleboard Table Width
The playing surface width is equally as important, especially if you are going to use a 12 or 14 foot size table, Many import lines offer 15 and 16 feet boards on the less expensive tables. The pucks are 2 1/4 to 2 5/16 inches wide, so it is much more difficult to get around or play the game on the narrow tables. That is why at McClure Tables, we do not make any tables less than 18 inches wide. Only our Liberty model is 18 inches wide and this gives you the full size table play and feel, but in a width that will accommodate a more narrow space. Often people put shuffleboard tables in a narrow hallway or behind a sofa or even next to their pool table and the 24″ width cabinet of the Liberty model is better suited for their space. So we still offer an 18″ wide board and give you professional game play as compared to other domestic manufacturers who only offer a 16″ wide play board in this width cabinet.
Answering the question, "How much room does a shuffleboard table require?," is as simple as knowing your own home. Remember, test out your house to make sure that the pieces of the table that you are interested can make it through doorways and hallways unscathed. Then, ensure you offer ample room (2 feet is best) for players to play shuffleboard without obstruction. By keeping all of this in mind, you'll be able to buy the shuffleboard that is right for your home and be extremely happy with your purchase.
You might also want to check the inventory of tables we have in stock for immediate shipment at our site we call McClure Reserve. These tables are all handcrafted shuffleboard tables and inventory is in real time we carry a wide variety of Shuffleboard sizes in stock.