Silver Dollar Pizza: The Ultimate Portland Sports Bar
Portland, Oregon, is filled to the brim with niche stores and restaurants, making it one of the Northwest's premier cultural destinations. However, not every local haunt looks as though it popped right out of the sketch comedy series "Portlandia," which lovingly mocks the coastal community for its perception as a haven for "hipsters." In fact, Silver Dollar Pizza – a longtime neighborhood hangout on NW 21st Avenue in the city's Alphabet District – is probably the opposite of trendy.
This establishment has called the Northwest section of Portland home for more than a generation. Despite having deep roots in the area, Silver Dollar Pizza was recently renovated to help give the neighborhood sports bar a little bit of something for everyone. While there are numerous television sets along the walls and a massive game room featuring billiards and even a McClure shuffleboard table, the bar also features food options for patrons with any kind of palette.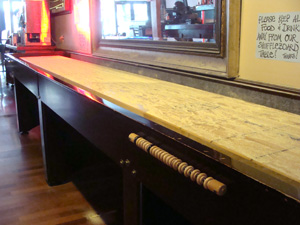 Whether you are looking for a traditional all-beef Silver Dollar Burger or would like to sample one of the gourmet pizzas dreamed up by the restaurant's experienced chefs, the selection here runs the gamut. And although Silver Dollar Pizza is anything but pretentious, they still have a decent craft brew selection on draft and in the fridges to satisfy the thirst of avid beer connoisseurs.
Silver Dollar Pizza even offers visitors drink and food specials throughout the week, making it the perfect place to meet up with some friends for a satisfying meal without breaking the bank. Every weeknight, they offer $1.50 domestic beers, $3.00 well drinks and craft brews and an incredible $1.50 pizza deal between 3 and 6 p.m.
If you find yourself in the area, don't miss this opportunity for cheap drinks and table shuffleboard at Silver Dollar Pizza – a true Portland classic.