Tap and Draw: A Challenge for Players of Any Skill Level
When an old pro is opposing a beginner on the shuffleboard table, there's no fun in watching one player mercilessly dominate while another flounders. You can really only get so much fun out of watching or partaking in a one-sided match, even if you are on the winning team. The only way to truly get the most out of your shuffleboard is to have rules at the ready for a game that gives advantages to neither player, making it a challenge for beginners and newbies alike.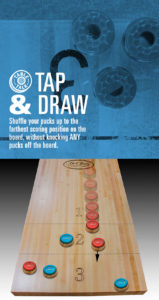 Tap and Draw is one version of traditional shuffleboard that seems simple enough, but can get furiously competitive, as well as addictive, when played correctly. The game employs a series of highly specific rules that could result in significant gains or massive losses in points with one poor flick of the wrist.
This competition begins with a setup similar to bocce, or the game of Italian lawn bowling. In that game, you want to get your team's balls closest to the designated marker in order to win a round. In Tap and Draw, you essentially want to do the same thing with your pucks by sending them as far down the table as possible without falling into the gutter.
Unlike bocce, this game has a points system in place that really levels the playing field between expert and novice shuffleboard player.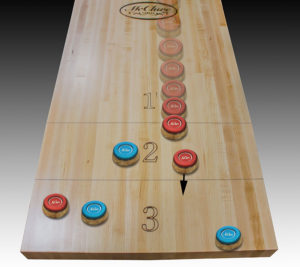 First off, not only do you not gain any points should your puck fall off the table, if you knock off an opponent's weight, you pay the price while the other team's piece remains on the table. It gets even more tricky when you knock an opposing puck off the table and advance one or more of your pieces in the process. In this situation, not only do your weights that moved have to go back along with the other team's puck, but you lose the weight you shot with and any potential points.
What really makes this game a fair challenge is the fact that any puck that advances after being hit by the shooter, no matter what the team, the points received all count.
The scoring is the same in this game as it is for most ones played on shuffleboard tables, where each foul line represents a potential score. You can play until a designated score or the traditional 21.