The Basics of a Sports-Themed Man Cave
Many families use the their shuffleboard table as the centerpiece of a game room that's largely set up for the kids to enjoy. However, Dad needs a space to play and blow off steam too. After all, he works hard all day so he deserves to put just as much effort into how hard he plays when he has some down time.
Man caves have become increasingly popular over the past few years as the ultimate guys-only hangout spot. Although you may have a few toys in this room that even the kids will enjoy, this space is dedicated exclusively to the interests of the patriarch of the family.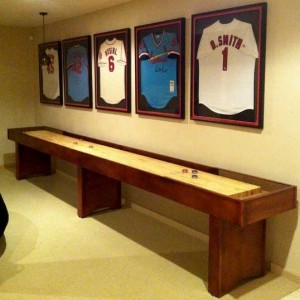 For most fathers who take refuge in their man cave, the theme is usually related to their favorite sports team or alma mater. Before you started your family, you could hang up posters or paraphernalia in your bedroom. Now that you're married, your spouse probably doesn't want jerseys hanging over the bed. Whether you were the star player on your college team or you're an avid fan of NASCAR, incorporate these interests into your decor.
Not only can you hang your favorite team's colors throughout the room on your walls, you can even make a custom shuffleboard from McClure Tables that flaunts your team spirit. You can have a solid maple, handmade table constructed for you that either features your favorite team's colors or even the organizations logo. Some customers even go so far as to incorporate a piece of their favorite player's history into the construction of their shuffleboard, like this Michigan State fan who used a piece of the actual floorboard that Magic Jordan played on in college.
Aside from the shuffleboard table, a large TV is usually one of the key features in this space so that dad and his friends are able to enjoy a big game in peace and seclusion. Make sure it's big enough so you can still watch the game even while partaking in a riveting tournament with one of your buddies.