The Benefits of Putting a Game Room in Your Attic
In almost every home there is an unused or underutilized space that presents the perfect opportunity for a game room. Perhaps nowhere is this more true than in the attic.
While most people put their game rooms in the basement, these dark, windowless spaces have a tendency to feel constricting. Because of the wiring and other details below the first floor that usually needs to remain somewhat exposed, unimaginative dropped ceilings are generally used in basements, robbing the space of any height.
In homes with an attic, you can take advantage of the peaked ceiling and exposed beams to create a space that is aesthetically pleasing and more inviting than a finished basement would be. Rather than having your game room feel like a subterranean lair, the space will instead have the essence of a penthouse play-space.
Embrace the structural look and go with a bare-bones approach to the design of the room. Don't cover up the beams with ceiling tiles but instead enjoy the cathedral look.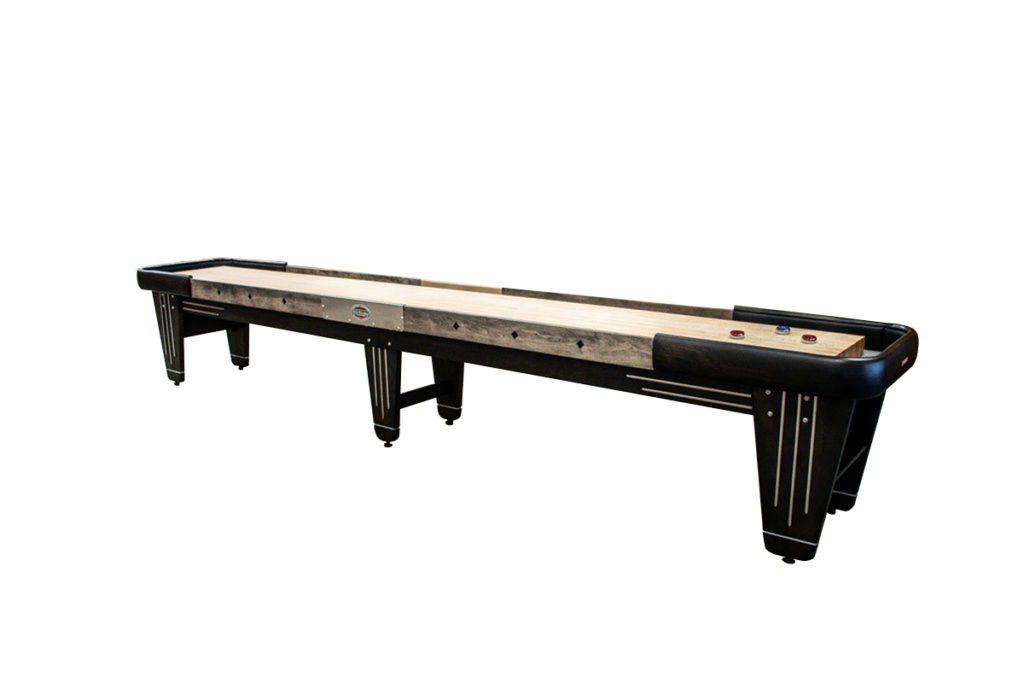 Hang antique ceiling lamps from the rafters, or at least old-fashioned looking fixtures, to highlight the rustic nature of the space. If you have any old-school paraphernalia like street signs or aged movie posters, this is the perfect spot to hang these pieces.
Since the attic runs the length of the household, you should have plenty of space to store an extra long shuffleboard. At 22-feet, the Rock-Ola shuffleboard table from McClure Tables is not only the perfect length, but it has a classic, old school look to it that would fit in nicely with almost any design scheme. One thing to keep in mind is you are probable going to need a lift or crane to get the shuffleboard playing surface in the attic. We once installed an antique Rock-Ola shuffleboard on the 3rd floor of an old home where the attic was converted to a game room.
Since you'll be playing above the rest of the house, make sure you put thick carpeting down throughout the space so that sound won't travel down through the rafters. This way, you can have a unique and inconspicuous hideaway with ample space to unwind and enjoy a game of shuffleboard.