What could pool cues possibly have to do with shuffleboard tables? Well, there is actually a striking comparison that helps to explain why wood-quality matters so much to the construction of a shuffleboard table playboard. It also raises some important questions about why billiards companies produce shuffleboard table playboards from lower-quality wood types.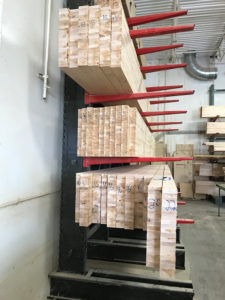 Before we get into the bit about the pool cues, we want to make an important clarification. We're focussing our attention on the PLAYBOARD with this comparison. That's the actual playing surface where the game is played. The other components of the shuffleboard table, AKA the cabinet, are absolutely essential and worthy of attention toward craftsmanship, but our Pool Cue Test applies primarily to the playboard. OK, with that out of the way, we'll try to make our point.
In recent years, the game of shuffleboard has become a lot more popular. Many bars now feature shuffleboard tables and you can even find them in corporate office break rooms. In short, demand has increased. With this rise in demand, there is, of course, an allure for businesses to capitalize on it. Nowadays, shuffleboards are being sold by lots different retailers, many times these are the same stores that sell billiards tables and accessories. Makes sense, but where do the pool cues fit into the equation?
If you are in the market for a Shuffleboard table then take a little field trip down to a local brick and mortar retailer that sells game tables or strike up an chat with an online retailer. In that store, you're likely to find shuffleboard tables whose playboards are made from Beech Wood or Canadian Maple.