The Post Beer Bar: Another Reason Why Austin, Texas, Is a Capital for Table Shuffleboard
Recently on the blog, we took a look at Red's Porch – an Austin, Texas, hot spot that features not only great food, stellar drinks and unparalleled views of the city, but also handmade McClure shuffleboard tables for patrons to enjoy for free. However, Austin shuffleboard fans have more than one option when it comes to participating in a game of shuffleboard. While Red's Porch may be the quintessential foodie hangout, The Post Beer Bar in Cedar Park is all about the party.
This neighborhood joint features three Rock-Ola shuffleboard tables made by hand in McClure's Michigan factory using the finest maple available in the region. Multiple nights a week, the bar is crowded with a wide array of shuffleboard fans participating in both casual games of Knock-Off and even organized tournaments for special prizes.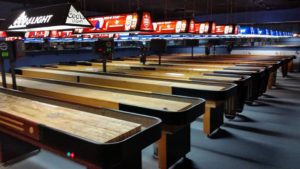 Every Sunday at 4:30 p.m. and Tuesdays at 7:30 p.m., an unofficial tournament is held where first-timers and seasoned bar regulars can take part while sipping on one of the many beers on draft and in bottle behind the bar, including Texas favorites such as Shiner Bock.
The Post isn't only for shuffleboard fans, as they also have several billiards tables on the premises that are open to "free pool" several nights a week. On top of that, the bar even features live music every Saturday night starting at 9 p.m. while on Fridays, guests can take the stage themselves as this place turns into the areas hottest karaoke club.
Another reason why the Post is such a beloved Austin destination is the fact that it features a newly opened beer garden on site that lets guests enjoy the beautiful climate of this all-American city year round.
Click on the map below to get directions to The Post Beer Bar.