The Ultimate Shuffleboard Music Playlist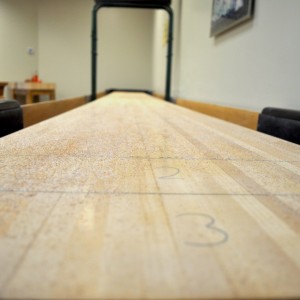 They say there is a song for every mood, so what if you really want to play shuffleboard? What kind of music do you listen to then? While there is no specific shuffleboard music genre, and nary a reference to a shuffleboard table in any lyrics, you can still find the perfect soundtrack to your next game. Apply your knowledge of the shuffleboard glossary to your favorite songs and turn them into your own anthems. To get you started, we created a five song playlist with some of our very favorite tracks that might be secretly be about shuffleboard.
The Beatles "Norwegian Wood"
Our shuffleboard tables at McClure aren't made from "Norwegian Wood," but this Beatles classic reminded us of the fine Michigan lumber that we use to handcraft each and every project in our workshop. George Harrison might not have been able to cut building shuffleboard tables, but he could sure handle a wooden guitar neck pretty well.
Leon Russell "Tight Rope"
If you play shuffleboard with reckless abandon and are constantly riding the rail then Leon Russell's ode to a tight rope walker is closely aligned with your strategy. By throwing your puck down the edge of the table, you're living life on the edge, but it can really pay off when you knock off your opponent's pucks.
Bob Dylan "Most Likely You Go Your Way (And I Go Mine)"
The Shakespeare of the music world doesn't know it, but he created the ultimate line for the hammer shot in shuffleboard. On this song from Blonde On Blonde, Dylan wrote "I'm gonna let you pass and I'll go last," and reminds us that any time you have the chance to take the hammer… Take it!
The McCoys "Hang On Sloopy"
Got a hanger? Need a theme song for it? There's no better shuffleboard music for your four-point shot then "Hang On Sloopy" from The McCoys. They may have been one hit wonders, but with their version of this classic garage rock song on your playlist, you'll be one step closer to having the ultimate soundtrack to your next shuffleboard win.
The Doors "Break On Through"
If your opponent is clustering their pucks in one specific area of the board, then it might be time to break up their party with one well-aimed shot. As Jim Morrison of The Doors so eloquently put it, "Break on the through to the other side," and send their shuffleboard pucks packing.
A little shuffleboard music never hurts anyone when you're getting ready for the next match. After all, the name of the game is having fun with your friends and family, and with an exciting soundtrack behind it all, you can't go wrong.