Turn the Shuffleboard Table into a Bowling Alley for Christmas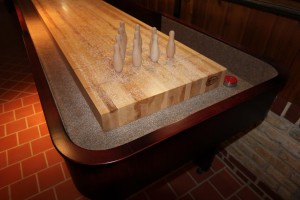 Last Christmas, gamers across the country received shuffleboards from Santa that were crafted not at the North Pole, but by the team at our Grand Rapids, Michigan factory. Having had 12 months to master the ins and outs of shuffleboard, it may be time to bring a new game to the table.
You can give your loved ones accessories that will make playing on a shuffleboard table more than just the same old game of "Knock Off" of "Crazy Eights". A set of bowling pins made by the same good people at McClure Tables will spur a whole new tournament on Christmas morning for the whole family to enjoy.
The bowling pins sold at McClure are made out of solid wood and stand between 4.5 and 5 inches tall. They are built to the scale of any sized shuffleboard making it so you can sub out a heavy bowling ball for the weights that came with the table to begin with when playing.
Because the pins are unfinished, you also are giving the recipient creative license, as they can either paint the pucks themselves to resemble the traditional white striped design found in most bowling alleys or go a different route entirely.
When you bowl on a shuffleboard table, you are also building up your strength as a shooter. Instead of trying to land in a specific spot strategically on the table, you are aiming to put as much power as possible into the weight to knock over pins. You will also have to adjust how you shoot, as the method of shooting from the side of the table may not help you when your aim is dead center.
Give the gift early so that the holiday gathering can be centered around a friendly bowling competition among loved ones. This will be an activity that every member of the family, young and old, will be able to partake in.