Turn the Walls in Your Game Room into Chalkboards for Your Kids to Enjoy
If you have youngsters in the family, you've definitely encountered your fair share of messes while your kids are growing up. After all, kids just want to have fun, and they may not understand fully that staining the carpet with paints or drawing on the wallpaper will cost mom and dad a lot of money to replace. While the only way to avoid carpet stains is to go with hardwood or linoleum flooring, you may not realize that there is a solution to preventing crayons and markers on the walls in at least one room of your house.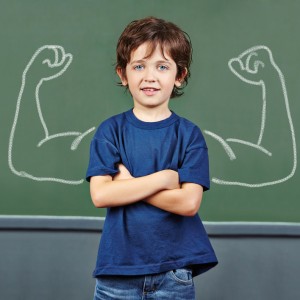 Benjamin Moore and a whole host of other companies create a special paint that is actually designed to turn your walls into an interactive work of art. While you may not think this charcoal gray paint will actually make your home appear more beautiful, happy or playful, its not the paint itself that is the work of art. Instead, this mixture will turn your walls into the perfect canvas for youngsters to take chalk and express themselves creatively without permanently ruining your walls.
This chalkboard paint costs only a little more than standard shades would, though the investment is completely worth it. Prep the wall or walls that you wish to turn into chalkboards by cleaning them with a sponge and removing any nails or protrusions. Once the walls have dried, you may have to put down a primer before applying the chalkboard paint.
The best room for these kinds of walls is the game room, since this is already the activity oriented space in your house. This way, while you are playing a game of shuffleboard on your McClure table, your youngsters who are too small to play can be doodling away on the wall, making art for the whole family to enjoy.