Turn Your Game Room into a Chic Gathering Place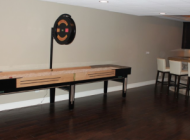 Many people assume that the game room is an area of their house where fashion is hardly important. However, there is no fun in having a game room that simply features a few movie posters or a framed jersey as the only decorations. In fact, the more thought you give to the decor in your game room or entertainment center, the more likely you'll be to actually have a good time in this area. If you can't get excited about the aesthetic of a certain space, then you can't expect the mood of the room to be conducive to leisurely fun.
Shawn Gauthier, an interior designer and writer for Houzz.com, recently wrote a piece that discussed ways to turn your game room into a more chic space by veering away from the childish and getting inspired by areas with a more formal function. For example, insert some colors into your room that you might find in a dining room or more formal living area. A rich burgundy or wine-inspired tone in your main couch or another item of furniture will veer the room toward a much more captivating aesthetic.
As well, look into window treatments that are more sophisticated than the simple shades you probably currently have hanging in your game room. A solid floor-length drape will anchor the look of the room and establish a more formal air for you and your family to enjoy.
Your shuffleboard table can contribute to the look of the space if you choose a model that is expertly detailed and beautifully stained. The Veneto collection, for example, has crisscrossing legs that give it a pleasing stance and premium look.