Turn Your Unused Dining Room into a Shuffleboard Haven
How often do you really use your dining room? Not every day is a holiday, and it's a rare event that you have the entire extended family over to enjoy a meal. Since this is probably one of the most underutilized rooms in the house, why not turn it into a space that your whole family can enjoy every day of the year?
Move out the dining room table and replace it with a shuffleboard. Turn this stuffy space into a fun and relaxing game room where you and your loved ones can come together after a hard days work and get to enjoy some quality time with one another.
You don't have to overhaul the entire look of the room to make it a successful game room either. If you have a beautiful chandelier, leave it up and place your shuffleboard table directly underneath it. Since you won't be able to walk beneath this low-hanging lighting fixture, it will be the perfect accompaniments to your classic looking shuffleboard set, illuminating the game from above.
If you'd like the room to retain some of its classic look when you turn it over from dining room to game zone, purchase one of our Veneto shuffleboard. These models are designed with elegance in mind, so that you can play a down-and-dirty game of shuffleboard without sacrificing a little aesthetic flair.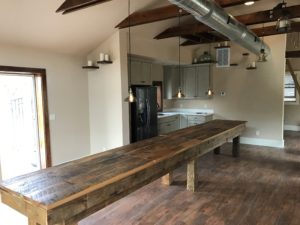 You will want to remove other features like fine china or heirloom antiques from the space, but don't worry about replacing nice window treatments for lower quality ones. Part of the fun of this modified space can be that it your family actually gets the feeling of being in a high class casino without having to leave the home.
If you decide to host a holiday sometime down the line, you can easily push the shuffleboard table aside and return the space to its original purpose in no time.