Ultimate Game Room with Rock-Ola Classic American Made Shuffleboard
McClure Tables delivered and installed two tables in Fort Wayne, Indiana today. At McClure Tables, we handcraft all of our tables in Grand Rapids, Michigan. If you are near Grand Rapids we welcome you to visit our shuffleboard factory. You will see many shuffleboard tables in production. Recently two customers from Fort Wayne Indiana made the 3 hour drive to see the McClure Tables factory. We made each of them a custom handcrafted shuffleboard table. The installation was supervised by both Todd McClure,the owner of McClure Tables, and a local shuffleboard pro from Fort Wayne, Indiana. He was very impressed with the quality of the McClure shuffleboard tables. The local pro gave both customers some tips on how to make shots, how to hold the puck, and how to guide the puck down the table.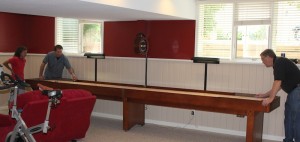 The customers were excited to learn the different shots, strategy and tips this local pro provided with this installation. He is a top rated player and was very impressed with the quality of McClure shuffleboard tables. He mentioned two other larger national companies that in his opinion were not nearly as well constructed at the McClure shuffleboard tables. As the owner I was happy to have him come along on our installations and give the customers some tips on how to play the game. It was a nice added feather that we offer our customers when a local shuffleboard pro is available.
This was the first table installed today in Fort Wayne then the second table that was installed was a 22 foot full size Rock-Ola classic reproduction with an authentic score unit. McClure Tables manufactures all our tables in our very own factory and we take great pride in handcrafting each shuffleboard we make. This is the most impressive game room to date that has a Rock-Ola shuffleboard table. You will not find too many game rooms that have a classic Viper car parked beside a classic Rock-Ola Shuffleboard.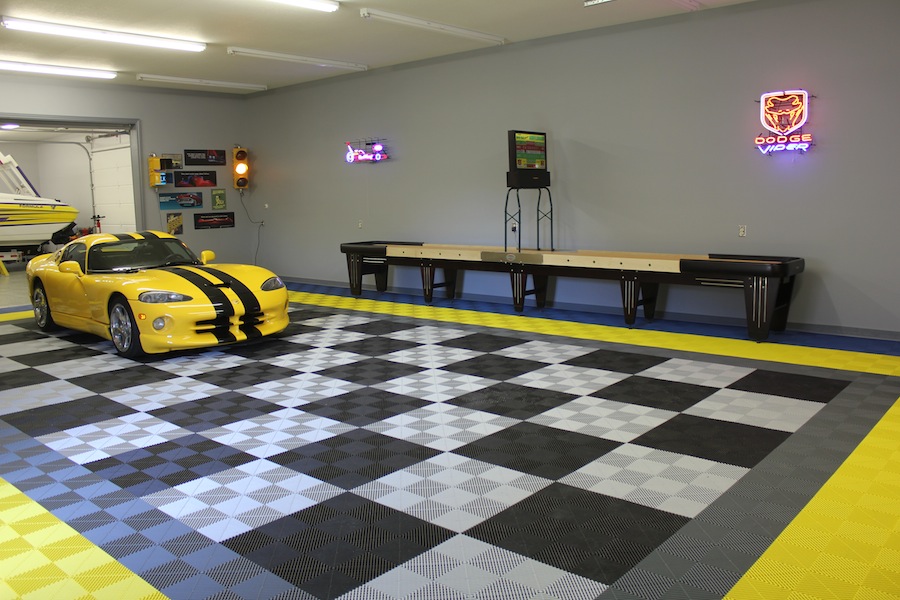 Here is another shot of the game room from another angle. The Rock-Ola table is made out of solid maple, with green glass inlay diamonds, stainless steel trim and covers. The Rock-Ola score pole is done in a green colored powder coating to match the green in the Rock-Ola logo and the green glass diamond inlays. This table is an authentic reproduction that is exactly like the original models made in 1948 and 1949.
McClure shuffleboard tables are all handcrafted in Michigan and you can learn more about our tables and even purchase a shuffleboard for your game room on our web site.