Veneto Shuffleboard Table New Contemporary Design
McClure Tables is always creating new designs and styles for our selection of handcrafted shuffleboard tables. Sometimes we are inspired by game tables, end tables, or other furniture designs. We recently had a home builder who was doing a custom game room and had several pieces that he was looking to match. Some of our existing styles and designs of shuffleboards came close to what he was looking for, but noting was an exact fit. "I don't build in order to have clients. I have clients in order to build". This is how we feel at McClure Tables we love to build, we love to work with wood and we love to create. This is our latest creation the Veneto shuffleboard.
This table name was named after the norther region of Veneto Italy. This shuffleboard model features a shaped side apron with a slight taper and bottom angle with the top trimmed with cove molding. The entire table is made out of Michigan hard rock maple. This is the same wood we use for our shuffleboard tops and the same wood we use for most of our cabinets.
The legs are made with solid hard maple. On both the front and back with the center curved parts are done with bending ply and select hard maple veneer. We custom make all our shuffleboard tables at McClure tables; they are not mass produced in a huge factory with impersonal CNC machines doing the work. They are hand crafted by our skilled craftsmen one at a time with the care and attention that only a hand made shuffleboard table will provide. We are one of only two shuffleboard manufacturers in the world who do not use any contract manufacturing to make our butcher block tops. We process the hard maple wood, press them all in house, and glue up the entire shuffleboard playing surface at our own factory. Most other companies simply buy the boards and do different parts of the shuffleboard construction, mostly mass produce cabinets and some finish work on the shuffleboard tops and cabinet.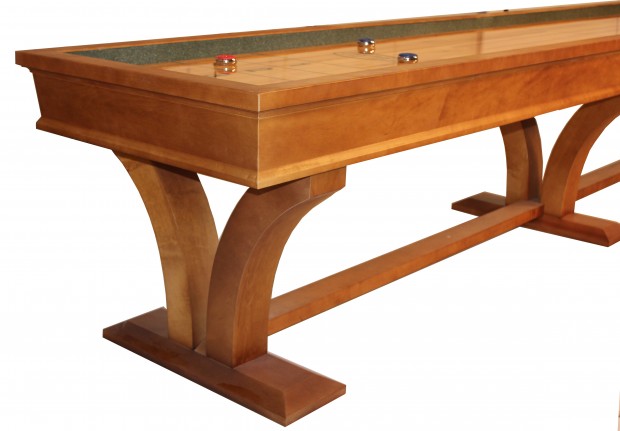 This close up angle shot shows the side apron shape and moldings that make up this new shuffleboard table now available on our Web site. We also offer a different leg style with a criss cross base and we did this model below in a contemporary two tone finish with our Mocha and Natural Maple. This table was sold to a customer who wants us to do it in all solid Mocha black so we will update an image of the table in solid black color soon.
As with all McClure Tables, each Veneto is handcrafted and custom made so you can choose any finish, style, or design for a truly personal custom shuffleboard table.