We Installed a Shuffleboard in the Middle of an Office
Now we think every office should have one.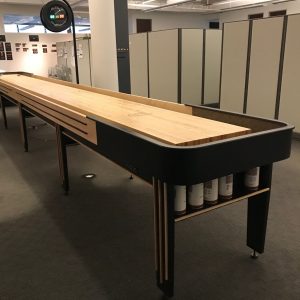 At McClure, we love finding out how our customers use our shuffleboard tables to relax and enjoy themselves. But when it comes to the workplace, installing a McClure shuffleboard table is more than just an opportunity for fun.
We recently had the opportunity to create and deliver a table for Doner Advertising, a global marketing company with offices in London, Los Angeles, Detroit, and Cleveland.  What we learned along the way has convinced us that every office could benefit from a shuffleboard of their own.
Who is Doner Advertising?
Founded over 80 years ago, Doner Advertising has spent decades searching for the next level of success within their company and for their clients. That means being receptive to new approaches to the office environment that might have been unheard of fifty years ago. The desire to contact us to provide a shuffleboard for their Detroit office game room was far from an impulse. In fact, Doner had been wanting a shuffleboard for their employees for over a year. With McClure, they finally found the right partner to make it happen.
How Can a Game Room Benefit the Office?
We know what you're thinking—how can letting employees play games at work possibly lead to a more successful company? But the facts behind this approach might surprise you.
Installing a game room in your company office space has a very simple and powerful outcome. Employees don't need to stay home from work in order to relax. When they have access to an area at work where they can hang out, have fun, and de-stress, they're less inclined to take days off to do this at home. That leads to a decrease in lost payroll costs that can be as high as 20%
Meanwhile, introducing an office game room inspires employees to network and hang out together. This fosters an increase in team spirit, connecting of ideas and dramatically improved communication. They don't have to be talking about work—just spending time together in a recreational setting is enough to increase a sense of teamwork in your company.
It's also been shown that games, particularly hands-on strategic games like shuffleboard, can improve brain function for your employees. That means better focus, improved performances, and greater recall.
Overall, a game area at the office means employees want to be at work, and they're more productive while there. What could be more powerful for the success of your company?
How We Built and Delivered the Perfect Shuffleboard for Doner Advertising
When Doner reached out to us in April about adding a shuffleboard to their office, we couldn't wait to make it happen. Our warehouse is located not far from Doner's office in Detroit, so we were able to hand-deliver the table and install it ourselves. We assumed that the table might be placed in some far-off break room. But when we arrived we were told to set up the shuffleboard right in the center of the open-plan office space. If we do say so ourselves, we think the genuine Michigan hardwood and handmade craftsmanship of our table looks right at home in the Doner Advertising office.
Often times office installations can be challenging and daunting. The reason is that all our shuffleboard tables are handcrafted and built to your specific needs. For example, we can and do offer playboards that are delivered as 2 pieces but are installed together to make 1 playboard. Doner had a 2-piece playboard which made it possible to fit up their stairs (take a look at the pictures below). Often for office or high rise locations we can make the playboard in two pieces. We join the board together with connectors and it will be a slight seam like a kitchen table with a leaf in the center. It plays the same as a one piece board and if you can not get the full length playboard in your location a two piece playboard is a great option.
What Table Did We Build For Doner? 
We handcrafted a Vintage series Tournament II. Their version was a 22-foot table with trim and a small electronic score unit. It features a walnut horse collar and walnut trim with an heirloom finish on a hard maple cabinet.
If you'd like to find out how our American-made shuffleboards can help make your home or office a more fun and more productive place to be, contact us today. Or to get a few more ideas on this model see this Houzz page